News & Events
SAVE THE DATE - February 24, 2018!
Please join us Saturday, February 24, 2018 for the Experience Industry Management department Annual Auction and Dinner fundraiser at the Cliffs Resort. The "Light Up the Night" Auction and Dinner includes a VIP cocktail hour, a dinner, and live and silent auction items. It is entirely planned, designed, and managed by a committee of undergraduate Experience Industry Management students, fully embodying our learn by doing motto! Your support funds student and program development and the continued growth of Cal Poly's nationally recognized Experience Industry Management program. To find more information and purchase tickets here! We would love to see you there!"
---
30 Cal Poly RPTA Students volunteered at Super Bowl City event as part of Super Bowl 50!
Leaders of the Cal Poly RPTA Department, Dr. Bill Hendricks and Dr. Keri Schwab coordinating department efforts supporting a team of 30 RPTA Student Volunteers.
Students worked as "greeters" during Super Bowl City in San Francisco! 
As part of Super Bowl City more than 30 free concerts at The City Stage with headliners Alicia Keys, Aleo Blacc, OneRepublic, The Band Perry, Matt Nathanson, and Chris Isaak.
OneRepublic performed a free concert at the City Stage during the event!
Next time say YES to volunteering and say YES to FREE Super Bowl t-shirt, backpack, raincoat, jacket, Cal Poly drawstring backpack, safety whistles, and lots and lots of FUN!  Thanks for representing Cal Poly RPTA at Super Bowl 50!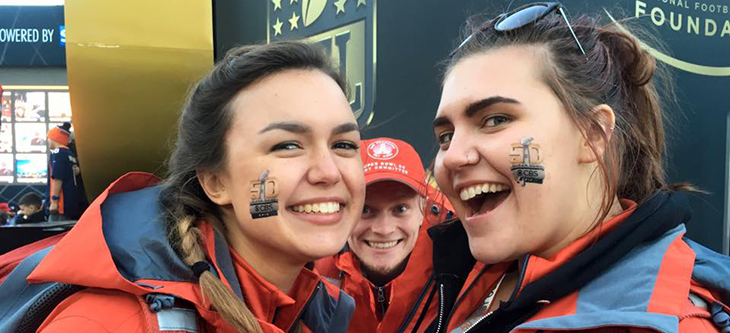 Related Content