News & Events
30 Cal Poly RPTA Students volunteered at Super Bowl City event as part of Super Bowl 50 last weekend!
Leaders of the Cal Poly RPTA Department, Dr. Bill Hendricks and Dr. Keri Schwab coordinating department efforts supporting a team of 30 RPTA Student Volunteers.
Students worked as "greeters" during Super Bowl City in San Francisco! 
As part of Super Bowl City more than 30 free concerts at The City Stage with headliners Alicia Keys, Aleo Blacc, OneRepublic, The Band Perry, Matt Nathanson, and Chris Isaak.
OneRepublic performed a free concert at the City Stage during the event!
Next time say YES to volunteering and say YES to FREE Super Bowl t-shirt, backpack, raincoat, jacket, Cal Poly drawstring backpack, safety whistles, and lots and lots of FUN!  Thanks for representing Cal Poly RPTA at Super Bowl 50!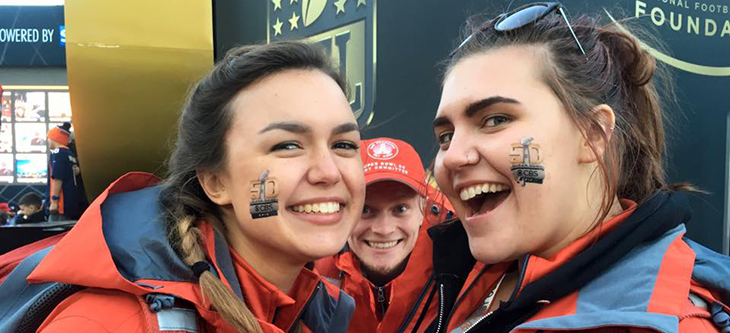 ---
What's going on in RPTA?  Tickets are almost sold out for the 40th Anniversary Celebration at The Cliffs Resort!  Have you invited your parents? Tickets are going fast! Get event schedule, updates and ticket purchases information here. 
See you at The Cliffs on February 27th!
Related Content