Advising Information - links to documents and processes at bottom of page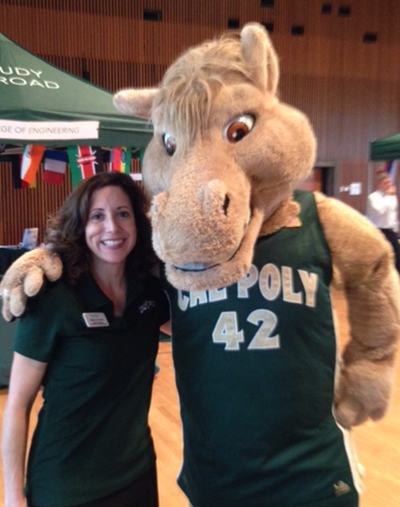 Dianne Korth, RPTA Major CAFES Advisor
CAFES Advising Center: Bldg 74M-A
Phone: (805) 756-7574
Email: cafesadvising@calpoly.edu
Please note. Dianne Korth meets with students by appointment only. Please email cafesadvising@calpoly.edu to set an appointment and check out CAFES Advising Website here >>
The RPTA Major Academic Advisor, Dianne Korth, assists undergraduate students with:
Proper course selection and degree requirements
Using and interpreting the Degree Progress Report
Understanding and adhering to academic policies
Supporting students on academic probation, disqualification, and readmission to the university
Providing suggestions and referrals for other campus support services
The CAFES Peer Advising Center is staffed with well-trained, experienced students to help with schedule planning (PASS, Registration, PolyPlanner, etc.) and related general academic questions.
RPTA Major Peer Adviser - Megan Bonwell        
CAFES Peer Advising Center: Bldg 74M-A
(805) 756-7574
cafesadvising@calpoly.edu
Spring 2018 Peer Advising Hours:
Monday 9-12:00 pm
Tuesday 1-3 pm
Wednesday 1-4:30 pm 
Thursday 1-3 pm
 
---
RPTA Major Faculty Advising
RPTA faculty provide individual advising to students related to major and concentration courses as well as professional development and career planning. Each student is encouraged to meet with a faculty advisor based on their academic focus. Experience Industry Management Department faculty office hours are posted here.
---
Declare a Concentration
To declare a concentration, send an email to cpdots2@calpoly.edu with a subject line of "Concentration/Last Name".
In the body of the email, provide the following information:
Full Name
Empl ID
Major
Catalog Year (i.e., 11-13, 13-15, 15-17, etc.)
Concentration you wish to pursue* - Please include the official name for your chosen concentration [one only]. The official concentration names are listed on the RPTA Concentrations page.
* Make sure your chosen concentration is available for the catalog you are following.
Refer to http://www.catalog.calpoly.edu for the current catalog.
If you are declaring an Individualized Course of Study (ICS), an ICS form must be signed by a faculty advisor. ICS forms are available in the RPTA department office in Building 11, Room 261.
---
Links and Documents
RPTA Change of Major Procedure revised June 1,2017
Event Planning and Experience Management Minor  April 2018 - Minor at capacity. Applications closed due to minor at capacity, however if you are interested for the next academic year [2018-2019], please email us with subject line 'EPEM Minor Waitlist' to be placed on the waitlist.
Cal Poly CAFES Academic Advising Website
Cal Poly Academic Advising Website
Cal Poly Counseling Services
EIM Faculty & Lecturer Office Hours and Location
Student Forms & Resources Please complete with your Faculty Advisor
Related Content