Summer 2016 Newsletter
Live, Protect, Explore!

WELCOME …
By Dr. Bill Hendricks, Department Head
As we approach the midpoint of the RPTA program's 40th anniversary year, it is
critical to recognize our legacy and those individuals who came before us, paving the way for the many successes that RPTA now enjoys. Over the past 40 years there have been several full-time faculty who called Cal Poly RPTA home.
These individuals included Carolyn Shank, the program's first coordinator in the Physical Education and Recreation Administration Department, a Cal Poly faculty member for 29 years who remains the heart and soul of RPTA; Lynn Jamieson, the catalyst to the program's first accreditation in 1985; Bob Meyers, Mike Swiderski, Maurice Phipps, Bill Johnson, Ray Moore and Wink Russell, who all contributed to the program's growth and development during the heyday of the 1980's; John Bullaro and Cynthia Moyer, hired by Carolyn Shank in 1993 to stabilize the program during its transition years in its new home with the College of Agriculture — they all provided unmatched dedication to students, the ideals of higher education, and RPTA; Frank Hendrick and Teresa Love who assisted in revitalizing Recreation Administration at the turn of the century; Marni Goldenberg and Jeff Jacobs who brought heightened national reputation expectations, teaching-excellence, and cutting-edge scholarship to RPTA; Jerusha Greenwood and Brian Greenwood, who further added to the national recognition of RPTA and a commitment to student-centered learning and the teacher-scholar model, Kendi Root, who further built what Carolyn Shank developed in event planning and took it to new heights, Susan Mackenzie and Keri Schwab, among the brightest young scholars in the country; and Kevin Lin, another up-and-coming scholar with a passion for students and excellence.
Although there have been far too many part-time faculty to name them all, Jim Battersby, Cheryl Dettrick, Gary Offerman, Betsy Kaiser, Bob Lewis, Marcy Maloney, Greg Avakian, Kirk Sturm, Rene' Van Hoorn, Mike Casola, Rodrigo Espinosa, Celeste Royer, Whitney Railsback Hrdlicka, Jenn Prentice, Jamie Wallace, Renoda Campbell, Cady Wolf, Andrea Lueker, and others have added immensely to the education of RPTA students bringing their real-world experiences to the classroom.
Of course, I would be remiss not to recognize Angela Sweet, Michele Reynolds, and Kathy Daniels, the administrative staff who have provided unwavering dedication and student and faculty support to the program. I thank each and every one of you for the legacy you have established, the commitment you have shown, and the tradition of a student-first learn by doing education that has created a culture of excellence and distinction during the first 40 years of RPTA's history.
RPTA 40th Anniversary Auction and Dinner
By Anna Bach (RPTA '16)
This past February, Cal Poly RPTA rose to new learn by doing heights as Jenn Prentice, RPTA faculty and 40th anniversary celebration director, and her team
of 20 RPTA student leaders created the most successful RPTA Auction and Dinner in the 15 year history of the event.  
Did you know that 2016 marks the 40th anniversary of the RPTA major? To honor this celebration, the planning committee organized a series of events for guests to attend during a festive weekend.  Friends of RPTA traveled from throughout California and the U.S. to attend the event. The auction and dinner sold out at 250 attendees and raised more than $62,500 for the dept., making it the highest grossing RPTA fundraiser of all time.
According to Prentice, "The thing that makes the auction and dinner so unique is that it truly is a Learn by Doing experience for the students. Having a team of students working on the auction while receiving course credit for it was a perfect union of theory and application." The weekend of festivities kicked-off with an alumni reception at Luis Wine Bar in downtown San Luis Obispo. On Saturday morning guests chose from a variety of exciting activities in San Luis Obispo County, including kayaking and stand-up paddle boarding, ziplining, wine tasting in Santa Margarita and Ancient Peaks Winery, and a group hike of Bishop's Peak.
The 15th annual Auction and Dinner was held on Feb. 27 at The Cliffs Resort in Shell Beach, Calif.
The sold out event was filled with guests dressed to impress, following the red carpet theme "RPTA in the Spotlight." RPTA students greeted attendees in the lobby and helped usher them into the beautifully decorated ballroom. The outdoor patio was full of tables boasting silent auction baskets with products ranging from wine, to weekend getaways, to sports gear, and much more.
RPTA Department Head Bill Hendricks presented 1982 alumna Karen Knight, owner of Blue Wolf Associates, with the Distinguished Alumni award of the year. Emeritus Professor Carolyn Shank was presented with the first-ever RPTA Lifetime Achievement Award for her dedication to the program and help establishing the major at Cal Poly in 1976. Guests enjoyed listening to Shank and former faculty member Lynn Jamieson reminisce about the RPTA department through the decades.
The live auction was another highlight of the event, with items for bid including a seven night stay at the Grand Mayan Resort in Mexico, a one week stay at a waterfront house on Florida's gulf coast in Cape Coral, park hopper tickets to Disneyland, San Francisco Giants and Los Angeles Dodgers packages, two footballs signed by special guest and NFL Hall of Famer Dan Fouts, and many more exciting items and vacations.
Attendees had the opportunity to donate to the fund-in-need of the year, a scholarship started by former faculty members Cynthia Moyer and John Bullaro, for Cal Poly RPTA students. The total raised was $6,350.
"Having Dan Fouts as a special guest at the event, as well as having so many former faculty members and alumni return to San Luis Obispo to attend the event really elevated the 40th anniversary celebration to a new level of excitement and entertainment," said Prentice.
The Cal Poly RPTA 40th Anniversary Celebration and Auction and Dinner was made possible by our sponsors George P. Johnson, The Seacrest Oceanfront Hotel, The California Parks Company, San Luis Obispo County Parks and Recreation, Santa Ynez Band of Chumash Indians, The Cliffs Resort, Giants Enterprises, TBA Global, and Pismo Coast Village RV Resort. Thank you!
If you weren't able to attend the 2016 event at The Cliffs Resort in Shell Beach, Calif. mark your calendars for March 11, 2017 as Jenn Prentice leads a new team of RPTA student leaders in the ultimate 'hands-on' experience for next year's fundraiser!
Carolyn Shank Presented with the First-Ever
RPTA Lifetime Achievement Award
By Anna Bach (RPTA '16)
Carolyn Shank, instrumental in the foundation and development of the RPTA department, was honored with the inaugural RPTA Lifetime Achievement award.
Shank is a legacy in the RPTA department. She was hired as the first coordinator of Recreation Administration in 1976 and worked for 29 years, teaching a wide variety of classes such as Research Methods, Event Management, Program Design, Social Dance, and Synchronized Swimming. She was known for rigorous classes and high expectations, impeccable organizational skills, humor, and dedication to students, alumni and Cal Poly. Shank retired in 2003, and the award was presented to her at the RPTA 40th Anniversary Auction and Dinner in February.
Aside from her work for Cal Poly RPTA, Shank excelled in the field of recreation in other ways. She directed, assisted, planned, and evaluated numerous Central Coast events including the California Transplant Games, the Cuesta Biathlon, and the 1994 California Parks & Recreation Society District VIII conference. She is the author of "A Child's Way to Water Play," a parent's guide to water orientation for infants and preschoolers.
Her research on the topic led her to be invited to teach in Australia and New Zealand and serve on the American Red Cross certification team for infant/preschool aquatics. In 2003, she received the Outstanding Professional award from CPRS District VIII.
Shank said that the RPTA Lifetime Achievement Award was a nice surprise. She said she enjoys watching the students coordinate the event each year. She loved seeing former and current faculty in attendance, and alumni from as far back as 1979.
"They're like family to me," Shank said. "The RPTA department would not be where it is today without the efforts of two very important people: Lynn Jamieson, who spearheaded the NRPA accreditation efforts and Bill Hendricks, who took the helm when I started looking toward retirement," said Shank.
Shank has seen the RPTA department grow immensely in the past 40 years since its formation under the Department of Physical Education as Recreation Administration, when the focus was on public leisure services. Within four years, therapeutic recreation and commercial recreation concentrations were added.
Due to a restructuring of the university in the late 1980's, the program relocated to the Natural Resources Management Department in the College of Agriculture, Food, and Environmental Science. Soon after, most full-time faculty resigned or retired, leaving Shank to rebuild the program.
The revised program started with two full-time faculty, John Bullaro and Shank, and a small group of part-time faculty including Cynthia Moyer. Eventually, an additional faculty position was approved and Hendricks joined the team. Shank commented, "It was the foursome of Hendricks, Moyer, Bullaro and I who kept the ship afloat and slowly prospering for the next decade. When I stepped down from the coordinator's position, Hendricks ably took over and never looked back."
Under Hendricks reign the program was granted full department status.
As for the future of the RPTA department, Shank said, "I expect it to continue to attract highly qualified students and retain nationally recognized faculty." Shank said she also expects the event planning and management concentration, created in 2000, to remain popular.
Shank continued to stay busy after her retirement in 2003, teaching part-time until she officially retired three years later. She golfs, teaches fitness classes and travels with her husband.
She stays in touch with former students, trying to meet up with them whenever she can. She also keeps busy with family; her granddaughter will attend Cal Poly in the fall as an RPTA major.
Congratulations Carolyn Shank on your RPTA Lifetime Achievement award.  
Karen Knight: Outstanding Alumna
By Tori Perrella (RPTA '17)
RPTA alumna Karen Knight ('82) received the 2016 Outstanding Alumna award at the department's 40th anniversary auction and dinner.
Knight, owner of Essential Concierge and Corporate Giving Partnership and a member of the RPTA Advisory Council, said that receiving this year's Outstanding Alumna award was touching.
"I was completely surprised. I love the department, so it was especially meaningful to be recognized," said Knight. The RPTA department provided her with the tools and opportunities necessary to land her first job as a conference services manager at Santa Clara University, which she said then gave her the credentials to take some big leaps in her career.
After gaining valuable experience as a manager at Santa Clara University, Knight acquired a job as the director of marketing for the San Francisco Recreation & Parks Department. In this position, Knight oversaw marketing for the San Francisco County Fair, city golf courses, the zoo, Coit Tower, Golden Gate Park, Candlestick Park, and several other venues.
Knight eventually left San Francisco to become the 17th employee hired at Legoland California Resort, before embarking on private enterprise as a business owner of her two companies - Essential Concierge and Corporate Giving Partnerships. Essential Concierge offers personal concierge, vacation home concierge, and small business personal assistance in San Diego and South Coastal Orange County. Her clients are typically CEOs of large companies who do not live in San Diego— the company manages their homes and services while they are away.
Corporate Giving Partnerships (CPG), launched in September of 2015, works with mid-sized companies to incorporate corporate social responsibility programs. The company has designed employee volunteerism programs and executive mentoring programs.
In the company's first six months, it contributed to feeding more than 1,600 people, and facilitated the launch of two community gardens and one playground in underserved areas. "It is such a high when we've helped a worthy cause and helped a company create a meaningful culture and brand at the same time," said Knight. Solving problems for people, companies, and nonprofits is one of the best parts of the career, according to Knight.
Cal Poly provided Knight with many of the necessary skills needed to obtain such a rewarding and successful career. "As a first generation college graduate, the strong and supportive university environment that Cal Poly provided has continued to be my foundation for much of my work ethic," Knight said.
Knight suggests that Cal Poly students stay connected with their peers, faculty, and mentors, even after graduation. "You will be surprised how many of them remain your closest friends and influencers throughout your career," she said. Additionally, Knight recommends using every job position as a stepping stone to new challenges and successes.
The RPTA department is proud to call Knight one of their alumni and congratulates her on being this year's recipient of the Outstanding Alumna Award.  
Faculty Highlight – Jamie Wallace
By Tori Perrella (RPTA '17)
The approachable and knowledgeable Jamie Wallace has been involved in the hospitality industry for the past 35 years. Wallace is concluding his second year of teaching hospitality and tourism in the Recreation, Parks and Tourism Administration Department, and said he is excited for the years to come. During his career, Wallace assisted in opening four hotels in San Luis Obispo County.
While growing up in Virginia, Wallace always imagined himself working as an architect after visiting pavilions in Montreal when he was young. Wallace was excited to return to his birth state of California when he decided to attend Cal Poly and major in business because architecture was too impacted at the time. He graduated in 1994 from the Cal Poly Orfalea College of Business. Upon graduating, Wallace began working at the San Luis Bay Inn at Avila Beach, realizing his true passion for the hospitality industry.
"I started working in the hospitality industry and hotels and I was just enthused. I love every part of the industry, whether it's helping people or working with people," said Wallace. Wallace said he worked in nearly every department at the San Luis Bay Inn, which taught him a lot about the hospitality business.
After working at the San Luis Bay Inn for several years, he gained more hospitality experience at the Pacifica Hotel Company, where he assisted in opening two hotels. Pacifica sent him to multiple departments for hospitality training, ultimately sparking his lifelong interest in the industry. Wallace reflected on his experiences at Pacifica as providing a family atmosphere that he continues to believe is a successful approach in the hospitality industry.
After Pacifica he taught hospitality for six years at Cuesta College in San Luis Obispo, while serving as the general manager of the Courtyard Marriott in San Luis Obispo. Of the various hotels that Wallace worked for, the Marriott organization was the biggest influence on his career. He supports the company's philosophy of taking care of all associates and guests as the bottom line. Wallace explained that he tries to incorporate the Marriott philosophy, when appropriate, into his course curriculum.
Two years ago, Wallace, now the general manager at Seacrest Oceanfront Hotel in Pismo Beach, joined the RPTA staff as a lecturer. He helped create a hospitality analytics course first offered in the winter 2016 quarter, which teaches students how to analyze and interpret hospitality industry reports.
Although Wallace has only been at Cal Poly a short time, he has made a positive impact on student learning in hospitality. Cal Poly students recognize Wallace's passion for the hospitality industry through his course material and organization of each class. Encompassing the Learn By Doing motto of Cal Poly, Wallace frequently takes his students out of the classroom for hands-on experience, such as visiting nearby hotels to learn more about the industry.
Haley McKay, a junior who has taken two classes with Wallace, believes his wide-ranging work experiences, connections, and knowledge in the hospitality industry is really reflected in the lessons he teaches students. "One of the best things about Wallace is that he goes to great lengths to positively influence his students, and his ability to connect with students allows him to make a lasting impact on us even after we graduate," McKay said.
Wallace acknowledges that much of his teaching has come from mentors in the industry. "I have been fortunate to have good mentors and people that care about me, which is a very important quality in the industry and the world," he said. As for working in the hospitality industry, Wallace recommends an individual must "know how to work with people and empathize because guests and customers come in many forms."
Wallace's favorite places to travel in his free time are Montenegro and Canada. He loves spending time with his wonderful family. Wallace enjoys mountain biking, staying involved in local tourism boards, and being an active member of the Mustang Car Club with his vintage, white Mustang convertible.
Wallace is excited to continue teaching hospitality and tourism at Cal Poly in the coming years.
The RPTA Department wishes Jamie Wallace well in his career at Cal Poly and his future endeavors.  
RPTA Students Attend Visit California's Tourism Outlook Forum in San Francisco
By Maxime De Jonge (RPTA '16)
In February 2016, seven RPTA students and Department Head Bill Hendricks attended the Visit California Outlook Forum in San Francisco to gain insight on tourism marketing trends and to network with industry professionals. Logan Dosker ('18) and Megan Stith ('18) were among the students who attended the forum.
The conference focused on international tourism growth and digital marketing strategies. California's tourism industry is off to a booming start in 2016. According to Visit California President and CEO, Caroline Beteta, 2015 travel impacts included $121.2 billion in travel spending and $9.7 billion in state and local revenue.
Professional development and extracurricular opportunities such as the forum are crucial for the success of RPTA students. The California Outlook Forum was a great opportunity for networking, for students to discuss internship possibilities and to find potential future mentors. "My goal was to see how I could conduct myself in a professional manner. The senior students that attended were looking for their internship and were able to make many connections," Dosker said.
Stith added, "The forum was a great opportunity for me to get to know industry professionals as well as my peers. Networking with everyone allowed me to learn more about possible careers and job opportunities that I wouldn't have thought of before. I really enjoyed being immersed in the conference and getting to know everyone there."
The Poppy Awards ceremony, which honors the marketing efforts of Destination Marketing Organizations (DMOs) throughout California, was the highlight of Dosker and Stith's experience. The students attended the Hornblower Cruise Reception and Dinner Gala at Jack London Square in Oakland, Calif. Among this year's winners were Visit Oakland, Terranea Resort, San Diego Tourism Authority, the San Diego Zoo, and BCA + StudioGood for San Luis Obispo. California's DMOs successes contribute to the reason why California is the premier tourism destination in the U.S.
Dosker said that the session titled "Hug Your Haters" by speaker Jay Baer, a marketing and customer experience expert, was one of the most inspiring and influential sessions. Baer talked about how online complaints and customer feedback can be an enormous opportunity for organizations. According to Baer, by 2020 customer experience will be more important than price. The problem in the travel industry is that it is unable to respond to online customer complaints. Baer's main point was that answering complaints is important because it increases customer advocacy and also increases customer love up to 25 percent.  
RPTA Intern Spotlight: Alyssa Beatton and the A's
By Anna Bach (RPTA '16)
Alyssa Beatton ('16), previous co-editor of The Report, has stepped into a new role as the Oakland A's Stadium Operations and Events intern, a perfect fit for her after studying both sport management and event planning and management as an RPTA student.
She is loving her experience so far, and has benefited greatly from her helpful, positive, and fun co-workers and bosses who do everything they can to help her gain as much experience as possible. She will continue with her internship for the entirety of the A's season, hopefully through the playoffs in October.
Beatton has a lot of duties in this intern position, which vary depending on if it is a game day or not. On a non-game day, she gives stadium tours or event space tours at the Coliseum (the A's stadium). Stadium tours are typically given to schools. She also hosts events for groups or companies that want to host a party or an event at the Coliseum. There are up to six rentable event spaces inside the stadium. Beatton gives tours to potential clients so they can get a sense of the space. On non-game days, Beatton is also in charge of tracking everything that comes in and out of the stadium in the clubhouse logs, a way to maintain the safety of employees, guests, players, and the overall stadium.
"Game days are the fun, event packed days," said Beatton.
She normally gets to the stadium up to four hours before each game to check the game notes to see what events are going on that day and to prepare everything needed for each event. She then makes sure to have radios and game notes for each game day staff member, the correct supplies for each event (linens and table cloths, signage, promotional items, etc.), and the exact amount of wrist bands for each event so the game day staff knows who is a part of each event. During the events, Beatton walks around to make sure everything is running smoothly. After the events, she and her supervisors take everything down, put everything away, and log the attendance.
From this internship, Beatton hopes to gain more experience in planning and executing large scale events. During her years as an RPTA student and as an intern for the baseball team SLO Blues, she helped plan and work many smaller scale events, and she is excited to build her event management skills by learning how to plan and execute larger events with the A's.
Beatton is thankful to the RPTA department for teaching her the importance of making positive, memorable experiences for people.
"We are in the experience industry, and Cal Poly RPTA has definitely taught me how to create enjoyable experiences for guests," said Beatton. "I definitely think that all of the work we did in RPTA classes with outside organizations helped me to gain confidence professionally."
Beatton's advice to RPTA students about looking for an internship is to get as much experience as you can in different areas of work. She said, "I knew I wanted to work in sports, so during my time at Cal Poly, I took every opportunity to gain sports related experience. This meant summer internships with the Junior Giants, interning with the SLO Blues, and using these experiences to learn about the different careers in sports, which helped me decide what I was most interested in." She also recommends that students interested in a career in sports should utilize Teamwork Online, an online site she used to figure out exactly what she was interested in doing such as events, sales or community relations.
Beatton's biggest advice to getting the most out of an internship as an RPTA major is to always being willing to learn something new and stepping outside of your comfort zone to set you apart from others. She believes that, "being willing to step in wherever you are needed shows that you care and want to see the organization succeed." Beatton had the unique opportunity to step in for the closed captioning staff person for two games, a new challenge that pushed her outside of her comfort zone. "I was so nervous that I was going to mess up," said Beatton, "but I had a lot of fun and learned a new skill!"
Beatton's dream job is to be an event coordinator for a Major League Baseball team, and she would love for that team to be the A's and to continue working in the same department with the people that have made her internship experience so spectacular. We look forward to seeing where this internship takes her next.  
RPTA Students Say "¡Hola!" to Sustainable Tourism in the Dominican Republic
By Kristen Byron, (RPTA '17), co-editor
Live. Protect. Explore. The RPTA Department philosophy is instilled in students in each major class they take. Students enrolled in RPTA 412: Sustainable Tourism in the Dominican Republic were able to witness this motto firsthand. Professor Keri Schwab developed the four-unit class, which students enrolled in during winter and spring quarters (two units each quarter), accompanied with a week long in-country experience during spring break. Students learned about sustainable tourism practices, the history of the Dominican Republic, and the Millennium Development Goals, among other concepts. As winter quarter drew to a close, the 14-student classroom buzzed with excitement as the in-country adventure drew closer.
After missing connecting flights and waiting through long layovers, the group finally arrived in Santiago, one of the largest cities in the Dominican Republic. The group was eager to visit the city and to experience Dominican life. "I think one of the most memorable parts of the trip was being completely lost in the city on our first day. We had to do a scavenger hunt with guides from the local university in a foreign city where no one spoke English," Sophie Mallery ('18) said. "We were running up and down streets without any clue which direction we were going, but I think this was such a different and fun way to experience the culture."
The group then traveled through a northern province, Puerto Plata, on their way to the mountains to stay for three nights in the Tubagua Ecolodge. Although there were bugs outside, and a gecko inside, the view from the Ecolodge was spectacular. Built on top of a mountain and facing the Caribbean Sea, the coastal cities and neighboring mountains were visible. The group went on many excursions from Tubagua, including touring a coffee plantation, crawling into an amber mine, riding a cable car up to a botanical garden at the top of a national park, and sliding down waterfalls at 27 Charcos.
One concept discussed often in class was the conflict between Haiti and the Dominican Republic. The students witnessed the tension when visiting Batey Baranguana, one of many camps for undocumented Haitians. Jordan Haserot ('17), explained, "it was so eye-opening to see the poor, undocumented Haitian workers and how horrible their living conditions are. Even living in such bad conditions the children were some of the cutest, seemingly happiest children I've ever seen."
The final destination for the group was Samaná, a province on the northeastern side of the island. After a fast and fun boat ride the students were delighted to spend some time on a small sandbar just off the coast of the mainland. The students loved snorkeling in the clear, turquoise water, seeing all the tropical fish, and laying out on the white, sandy beach in the scorching sun. The guides then took them on a bumpy boat ride through a mangrove forest, then back to the mainland. Cassi Bellino ('18) recalled, "When we went back to shore, a local braided my hair, we ate fish off the bone, and families stared at us. It was so surreal to be immersed in the reality of this picture-perfect island."
The group stayed in an all-inclusive resort for one night in Samaná. This allowed them to compare the various travel accommodations they'd experienced throughout the week, and see the impact each had on the local economy and local workers. The students knew the all-inclusive resort had the most waste, as well as the most amenities such as a pool, private beach, and buffet meals.
Spring break flew by for the 14 students who travelled to the Dominican Republic. They became more culturally aware of some of the major problems facing the area, as well as the impacts tourism has on small islands. Upon their return, the class met during spring quarter to reflect on how the trip impacted their lives. The students also presented a research paper and photo essay to demonstrate and share what they learned.
The Dominican Republic holds a special place in each student's heart and they often reminisce about their experience and the people they met. Small souvenirs remind them of their time in the country. Emily Duncan ('17) explains, "The Dominican Republic was an incredible country that was filled with both amazing experiences, yet harsh realities. I learned so much from the country and people and am so grateful for the trip and the girls that accompanied me on it."
If you missed out on this adventure, Professor Schwab is taking another group to the Dominican Republic next spring break. Attend an informational session or ask the Cal Poly Study Abroad Office for more information.  
Students, Faculty and Alumni present at the California Park and Recreation Society Conference
By Rachel Romanelli, with contributions from Blair Orlando, Tyler Naso, Megan Hobbs and Keri Schwab
In their ongoing efforts to develop industry contacts, learn about the field, spend time with faculty (and peek behind the scenes at the Staples Center!) four RPTA students attended the California Park & Recreation Society (CPRS) conference in Long Beach, Calif. in March. Students listened to educational seminars—many which talked about how recreation is important—and networked with professionals in the field. Students worked the RPTA booth in the Expo Hall and talked with many people about the amazing things the RPTA has to offer.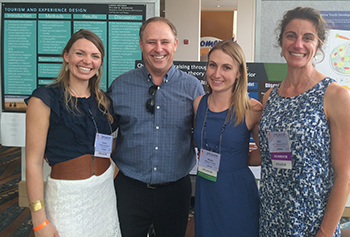 Cal Poly students embraced the Learn by Doing motto, playing on the playground equipment, walking around Long Beach, and ending the trip with a visit to the Staples Center in Los Angeles.
"Overall, CPRS was a great conference full of interesting, educational seminars, professional networking and a little bit of fun and games to balance it all out," said Rachel Romanelli ('17).
First-year student Blair Orlando ('19) said the conference exposed her to a variety of ways recreation can influence quality of life and the many ways she will be able to use her degree in the future.
Tyler Naso ('17) said he appreciated the variety of experiences the conference afforded him. "I learned quite a bit about various recreational equipment that I may use when I'm out in the field," he said. "I'm also glad I got to know more of my fellow colleagues and share my experiences at the Staples Center with them and my teachers."
Professors Bill Hendricks, Brian Greenwood, Kevin Lin, and Keri Schwab also attended the conference, to present, network, and support graduate student presentations. Lin presented a study on the role of social status and leisure activity among adults in China, while others presented research posters in the main hall.
Graduate student Megan Hobbs presented the theoretical framework for her master thesis, which examines charitable fundraising through special events. "Presenting at the poster session gave me the chance to practice communicating my research in a clear and concise way. Hearing from different professionals about how they could apply the findings of my research in their particular field, or how it could relate to a project they're working on, really renewed my excitement on the applicability of my research," she said.
RPTA alumna Carina Hessmer presented her senior project, titled Tourism Experience and Design. She traveled to Long Beach from San Francisco just to reconnect with faculty and share the results of her study.
Schwab presented a poster on reconnecting youth with nature via social media and – as well as a poster on connecting youth to local food through family leisure activities. Cal Poly RPTA alum Katherine Soule ('09) and RPTA student Anuja Argade ('17) assisted with the project. Hendricks presented a paper on California's youth outdoor recreation trends. He collaborated with Professor Jerusha Greenwood and two colleagues from the University of Utah.
The trip culminated with a behind-the-scenes tour of the Staples Center, organized by Professor Brian Greenwood. Several RPTA students joined the group for the tour, excited to step on the Clippers basketball court and see the VIP lounges.
"I've always wanted to attend a game at the Staples Center, but a private tour was ten times better," said Naso. "The facilities manager taught us so many things that we wouldn't have learned anywhere else."
Like most RPTA experiences, attending CPRS was a combination of education, recreation, and socialization. While Naso was most thrilled about touring the Staples Center, he said that spending time with faculty was also valuable.
"Being with the RPTA family and meeting new people was an amazing experience and allowed me to become more personable with my professors and colleagues who usually only see me in a classroom," he said.  
RPTA Shines at 2016 Cal Travel Summit
A hallmark of the RPTA Department is to encourage students, staff and faculty to take advantage of every extra-curricular opportunity that arises each academic year.  In May, twenty students, three faculty, and one staff member attended the Cal Travel Summit (CTS) in Indian Wells, squeezing every ounce out of three days to learn from and connect with travel and tourism industry professionals at the state's premier tourism networking and educational event.  RPTA Administrative Support Coordinator Kathy Daniels, said of her first time attendance at the CTS, "Cal Travel Summit 2016 was an impetus for action!  Going through my conference notes I realized that I had action steps that I captured, completed, and would be able to add to my professional development plan.  In completing the circle by acting on information after the conference, I cemented the presenters' passions, impacting trends, and game-changing concepts!  Can't wait to go next year!"​
Since the early 2000's, Cal Poly RPTA has supported students attending the annual conference both as individual Cal Travel scholarship recipients and as a group of students, staff and faculty attending the CTS.  In addition to the other RPTA student attendees, this year senior Meghan Thompson and junior Emily Bishop received two of the three statewide student scholarships to attend the conference.  "Meghan and Emily were selected for the scholarships because of their passion for the industry, their professional experiences directly related to the field, and their academic accomplishments" stated Cal Travel scholarship committee member, RPTA department head Bill Hendricks.  "It is always a fine balance on these committees to remain objective and unbiased when evaluating your own students, but Meghan and Emily were clearly the cream of the crop."  Meghan and Emily received complementary registration, and paid lodging and related travel expenses.  They were also recognized during one of the educational sessions as recipients of the scholarships.  In recognizing the benefits of attendance at the CTS, Emily Bishop stated, "Networking is all about making personal connections and building those relationships."
At the CTS, the Cal Poly contingent attended multiple educational sessions including those focused on advocacy, tourism promotion, the relationship between city growth and travel, marketing insights, events as destination branding, and the economy.  Of course a travel conference goes all out in terms of the networking and hospitality side of the conference.  A special bonus this year, was RPTA student, Sam Rosenblum's role with Sea World's "meet and greet" as Sam shared animals from Zoo to You, a Paso Robles based wildlife conservation organization.
The RPTA Department continues to seek funding and opportunities such as the Cal Travel Summit that set us apart from other academic programs.  Perhaps the benefit of this type of involvement is best reflected by Barb Newton, CEO and President of Cal Travel who said, "We love our partnership with Cal Poly RPTA and department head Bill Hendricks. We have found the Cal Poly students to be consistently intelligent, motivated, and knowledgeable, and Bill is a valued resource and advisor.  We hope by recognizing their talent and leadership, and engaging with them while they are still in college, we will be able to retain Cal Poly's  top tourism students in California's tourism industry when they graduate."
RPTA Internships Abroad
By Brooke Campbell (RPTA '17)
One of the most popular responses to "what do you want to do as soon as you graduate?" is travel. A majority of students planning to work in the recreation, parks, and tourism industries aspire to travel, but often don't have the means or think that their only option as studying abroad.
There are various opportunities offered by Cal Poly to study abroad, but why not intern instead? In order to graduate from the Cal Poly RPTA Department, students are required to complete an internship. Most students look locally to companies they are familiar with to meet the requirement, but others seek internships abroad.
RPTA students Erin Rugh and Kaitlin La Plante chose to do their spring quarter internships abroad. Both are enjoying very different internships, but with similar learning experiences. Rugh is interning for the Pacific Islands Club resort in Guam for the Sports, Entertainment, and Activities (SEA) Department as a "club mate." Her duties include lifeguarding, teaching snorkeling, archery, and windsurfing, making reservations for lessons and activities, and leading various beach activities such as water basketball, water volleyball and line dancing.
While Rugh took a sports-related approach, La Plante is an intern, or "schweebmesiter," for Agroventures, an adventure park in New Zealand. She is in charge of operating a park ride called "the Shweeb," which is a system of pods on a monorail that is operated by a person pedaling. It's the only one in the world. Along with this, she helps with upkeep at the park.
A major benefit to this unique experience is their personal growth. "I have learned how to better communicate when there is a language barrier present, to better throw myself into things by overcoming fear or discomfort," says La Plante. Rugh is seeing herself grow as a professional as she has "become more aware of cultural differences and knowing how to interact and communicate with others." All very crucial to working within the recreation, parks, and tourism industry, she said.
The skills they learned in RPTA classes are relevant in their experiences interning for these companies. RPTA classes greatly encourage teamwork and leadership. "RPTA taught me how to be a leader, which I think is a big component of my work, day in and day out. Interacting with diverse groups and knowing how to create memorable experiences are the other most important pieces of knowledge RPTA imparted to me. People skills are so important in the adventure tourism industry; it can make or break a business," said La Plante.  
Thirty Cal Poly Students get a Firsthand Experience at Super Bowl 50
By AnnMarie Cornejo, CAFES Communications Specialist
Thirty Cal Poly students from the Recreation, Parks and Tourism Administration Department got to experience the 50th Super Bowl the best way they know how —ensuring that thousands of visitors had a safe, pleasurable experience.
The students served as greeters for the Super Bowl 50 Host Committee, answering questions about activities and amenities at Super Bowl City centered in Justin Herman Plaza on the Embarcadero at the foot of San Francisco's renowned Market Street.
In addition to greeting visitors and answering questions, students also assisted with crowd control, took photos for attendees, supported public safety and security, and directed the flow of visitors — ultimately serving as the face of Super Bowl City at entrances and exits.
The goal of Super Bowl City, open free to the public, was to highlight the best of the Bay Area with interactive activities for guests of all ages, as well as to celebrate the Super Bowl.
The Cal Poly students who volunteered played an integral role in making sure it was a success.
Bill Hendricks, head of the Recreation, Parks and Tourism Administration Department, facilitated the volunteer experience for students by working directly with various contacts he has in the tourism, event, marketing and sport industries.
Hendricks said the abundant Learn by Doing opportunities allowed students to apply knowledge from their courses in areas such as leadership, event planning, experiential marketing, volunteer motivation, sustainability, sponsorship, tourism, mega event operations, and more.
In all, nine freshmen, nine seniors, and 12 sophomore and junior Cal Poly students were able to gain hands-on experience at the event Feb. 5-6.
The international crowd attending Super Bowl City capped at 15,000 people – the largest event any of the students had played a role in.
Many students described the event as both overwhelming and rewarding — learning quickly what techniques worked and what didn't.
"The large crowds were a bit intimidating, but we quickly learned to rely on other volunteers to manage them," said Julia Petit, a senior.
Students wore uniforms that designated them as volunteers and carried "Ask Me" signs.
Professor Keri Schwab, who also attended, said the event was a great experience for students as they apply for jobs.
"It allowed them to gain confidence and taught them the power of working together," Schwab said.
Senior Cody Koelzer said his courses and work on past projects through Cal Poly trained him to spot problematic crowd control issues. "The volunteer leadership and management classes we have taken helped equip us to lead a group of fellow volunteers effectively," he said. "Seeing all the puzzle pieces of the planning process come together was exciting. We plan events within our major, but seeing Super Bowl City helped put into perspective the time and manpower it takes to make the event happen."  
RPTA in the Community
Compiled from faculty and staff reports
The RPTA Department strives to embody the Cal Poly Learn by Doing motto at every turn. Spring quarter was no different as several classes rolled up their sleeves to contribute to San Luis Obispo County's quality of life. Here's a sampling of the ways students and faculty bring RPTA to life.
In Jenn Prentice's RPTA 320 class, Special Event Planning, students helped plan and staff two events: The International Chardonnay Symposium and the Children's Day in the Park.
The International Chardonnay Symposium, held May 14th at Greengate Ranch in San Luis Obispo, was attended by more than 500 wine lovers, sommeliers, winery owners, vendors and others in the wine industry. Attendees tasted various wines from more than 100 wineries and enjoyed gourmet food and cheese from local caterers and fromageries. A group of 15 students planned a silent auction for the event and other students from RPTA 370 class volunteered as well. The proceeds from the silent auction, which raised over $6,800, will benefit the RPTA Department and the Cal Poly Wine and Viticulture Department.
Brooke Campbell, ('17) said of it was a true Learn by Doing experience. "By working with Parker Sanpei to create the silent auction for the International Chardonnay Symposium, I learned the true value of teamwork and communication. It was a real, Learn by Doing experience of the benefits and struggles of doing contract work for another company," she said.
Twenty-seven students planned the carnival for Children's Day in the Park in Atascadero, Calif. on May 21st. The students set up and staffed a photo booth, relay races, free-throw and football throwing contests, crafts, corn and can toss, hula hooping and musical chairs. They also coordinated all the entertainment on the main event stage. More than 500 people attended the event.
Laura Greene ('17) also thought the Children's Day in the Park was a learn by doing experience.
"Helping at children's day in the park taught me a lot about improvising. A few things at the event didn't go as planned, but we were able to think on our feet and make quick changes/solutions to keep the event moving forward smoothly," she said.
Sage Speak ('17) said the volunteer opportunities helped her learn and grow in many ways. "Volunteering at events such as the Children's Day in the Park will help me in my future career because it is an opportunity to learn from my mistakes. Also, it's great having an opportunity to put things we learned in class into action. I love the Learn by Doing model that the RPTA Department provides for their students," she said.
Dr. Brian Greenwood's class:
RPTA 260: Recreational Sport Programming
Under the direction of Associate Professor Brian Greenwood, students in RPTA 260: Recreational Sport Programming were hard at work impacting the San Luis Obispo and Central Coast community in a positive manner.
This past quarter marked the third spring that the class has partnered with the San Luis Obispo Parks and Recreation Department to plan, organize, and facilitate sports and physical activity sessions with children enrolled in the Sun-N-Fun (Grades TK-3) and Club Star (Grades 4-5) after-school programs at Bishops Peak Elementary in San Luis Obispo. Greenwood set up the partnership with site supervisor Val Gale, and the students are charged with developing ideas for five sessions that integrate positive youth development lessons with fun physical activities that engage and keep the kids moving for 45 minutes.
In addition, RPTA 260 students accepted Greenwood's challenge to "be the change they wish to see in their community" by adopting an idea that was originally proposed by Cal Poly philosophy Professor Emeritus Larry Houlgate [photo below].
Houlgate emailed RPTA Department Head Bill Hendricks indicating that he thought it was a shame that the Central Coast did not have a Senior Games and wondered whether a student might be interested in developing a study on the subject. After the email was forwarded to Greenwood, he decided it was a perfect project for RPTA 260.
After hearing Houlgate's pitch on his involvement in the Senior Games at the regional (Los Angeles) and national (Utah) level, students in RPTA 260 developed a proposal to bring regional games to the Central Coast. On June 2, students presented their proposal to a group of invited recreation, civic, and senior leaders from the area in hopes of picking up a champion who might then take the proposal and bring the Senior Games to life on the Central Coast.
"Cal Poly's Learn by Doing approach challenges us as faculty to reach out and develop partnerships in hopes of not only enhancing the learning experience for our students, but also the community in which we live. This group of RPTA 260 students did not once flinch this quarter in embracing the opportunities and challenges set before them, and I could not be any more proud of them for the work they've put in to bettering their community," said Greenwood.
Professor Marni Goldenberg's RPTA 257,
Leadership & Diverse Groups
Professor Marni Goldenberg's leadership class experiences being leaders and followers by volunteering in the community. During spring 2016, students volunteered with a community garden and the Special Olympics, among other organizations.
Here are some highlights from students who were involved with these community projects: "I volunteered this quarter for an organization in San Luis Obispo called Growing Grounds. This is a working nursery that hires recovering mentally ill and helps them get back on their feet. I loved my time there and the people were incredible to work with. With about one in four adults suffering from mental illness in the U.S, it's truly amazing to have such a great organization so close to us. I was lucky to spend some of my free time with these incredibly inspiring people this spring." – Seralyn Fields, ('17).
"My experience working with Special Olympics has touched my heart. I volunteered as a buddy at the games held at Cuesta College. I was given the opportunity to accompany my buddy to his softball and track and field event. His excitement for the games was contagious, but my favorite part of the day was the epic dance party we had at the end. I was smiling and laughing the whole day. I am so thankful for RPTA 257 for putting me in a position to have such an amazing opportunity to Learn by Doing." – Ashley White, (2018).
"Our group worked with Family Care Network, Inc. throughout spring quarter to design and implement an event promoting the nonprofit. We chose to work with the social workers from Family Care Network, Inc. to provide a list of the most needed items for the families and youth that the agency serves. We held a food drive outside of Campus Market and collected 748 items over the span of two days. We are truly amazed by the generosity displayed by Cal Poly students." – Chelcy Westphal
Faculty News
This spring, two RPTA faculty are continuing a long tradition of excellence and recognition at Cal Poly.  Congratulations to Professor Marni Goldenberg, who recently received the Outstanding Leadership Ally Award. The LEAD (Leadership and Engagement Achievements of Distinction) awards are given to students and faculty who have worked with the Center for Leadership & Service, Center for Service in Action, Fraternity & Sorority Life, Club Sports, and Clubs & Organizations, for their exceptional contributions to Cal Poly. This was the inaugural awards ceremony.
Congratulations also to Professor Keri Schwab who received the CAFES New Scholar Award this spring. The award is given to pre-tenure faculty for outstanding accomplishments in research and publications. Schwab was recognized for her scholarly contributions to the body of literature in leisure sciences, her prolific writing, and her reputation as one of the top young leisure scholars in the country.  Schwab was also recognized last fall by the National Recreation and Park Association as one of five individuals nationwide identified as a future leader in the field.
The RPTA department is proud to have its own faculty in the mix for these prestigious Cal Poly awards. Students and the entire RPTA Department benefit from the exceptional performances of Goldenberg and Schwab and their well-deserved accolades.
RPTA Recognition Reception
By Kristen Byron, co-editor ('17)
The Recreation, Parks, and Tourism Administration Department recently recognized student scholar and merit award recipients. Although the students are off to new adventures, the RPTA department will miss them greatly. Left: Dr. Bill Hendricks with Scholarship Donor Jodi Hamp Fisher Family and awardee Summer Santos.
The RPTA Department held an awards ceremony on May 25 to announce the RPTA student award and scholarship recipients, and the senior superlatives. The event was held in the Agriculture Plaza, next to Building 11. Many students and faculty members attended the ceremony to support the recipients, and share in a delicious spread of pulled pork and tri-tip sliders, with baked beans and coleslaw catered by Rib Line . Left: RPTA student Shannon Fouts receives Pismo Coast Village RV Resort Scholarship.
Congratulations to the following award recipients:
Outstanding Senior: Becky Long
Outstanding Contributions: Allsion Adams, Anna Bach, Emily Bishop,
Brooke Campbell, Rachel Romanelli
Pismo Coast Village RV Resort Scholarship: Shannon Fouts
Pismo Beach Hospitality Scholarship: Samantha Keipert
George P. Johnson Community Service and Leadership Award: Brooke Campbell
Jerry Lee Frederick Memorial Scholarship: Joanne Lodato
Ashley D. Richardson Scholarship: Evrett Marr
Jodi Hamp Fisher Scholarship: Summer Santos
Cynthia Moyer and John Bullaro Scholarship: Rachel Contreras
John S. Maher Scholarship: Kaitlyn Ozenne
Chester Sr. and Avis McCorkle Memorial Scholarship: Katherine Bradley
Earl J. Cecil/Rancher's Cotton Oil Scholarship: Mattie Work
Congratulations to the 2016 RPTA award recipients and graduates. We are excited to see where your future is headed and we know you will go on to achieve great accomplishments.
---
Meet the Summer 2016 'The Report' Staff
Staff bios available here
Co-editors Anna Bach and Kristen Byron
Staff Writers Tori Perrella and Maxime De Jonge
---
Make a Donation to RPTA
At the link below, interested donors can give directly to the RPTA department. Simply scroll down to RPTA and enter an amount.
The primary fund supporting students and the department is the Excellence in Recreation Administration (REC Excellence) Fund, which is designated to benefit RPTA student and faculty professional development.
Related Content