Summer 2017 Newsletter
Live. Protect. Explore.

WELCOME …
Dr. Bill Hendricks, Department Head
The end of each academic year brings milestones, reflections on our successes and challenges, hopes for the future, inspiration from our talented students and faculty, and the dreams and aspirations of a new crop of graduating seniors. This issue of The REPORT highlights key partnerships that are flourishing in the Experience Industry Management Department, international opportunities for faculty and students, faculty engagement, new courses, extracurricular and Learn by Doing activities, and the launch of our revamped curriculum to focus on the planning, design, execution, management and assessment of structured experiences.
You will have a chance to read about and congratulate professors Brian Greenwood, Jerusha Greenwood and Kirk Sturm for the recognition they received at the recent College of Agriculture, Food and Environmental Sciences awards banquet. Another "can't miss" article features Brian Greenwood and Keri Schwab as leaders on the "More Than a Motto" book and project about Cal Poly's signature Learn by Doing approach to education. Of course, I would be remiss if I did not encourage you to read about Amber Karson, our new part-time lecturer with a wealth of event planning industry expertise. You will also read about the recent efforts to expand our students' knowledge as global citizens through emerging partnerships with universities in Germany and Finland, and our latest sustainable tourism course in the Dominican Republic. We continue to push the envelope with new courses, including Interpreting Experience Industry Data Analytics and Adventure Travel Planning and Management, both offered in winter 2017. Be sure to peruse the articles on the 16th annual Experience Industry Management auction and dinner fundraiser; Brooke Campbell's internship with the Pebble Beach Co. Inc.; this year's outstanding alumna, Tobi Jo Greene; and Rho Phi Lambda's successful career fair under the leadership of Corinne Smith. Finally, be sure to read about our latest visiting executive speakers Bob Vallee Jr., CEO and chairman of Project Worldwide, and Chris Meyer, CEO of George P. Johnson Experience Marketing.
If you would like a daily dose of Experience Industry Management to complement the biannual newsletter be sure to "like" CalPolyEIM on Facebook and to follow us on Instagram, Twitter and LinkedIn.
Wishing you a summer and fall full of life-enhancing experiences and visits to memorable places!
EIM Unsolved: 2017 Annual Auction and Dinner
Kat Porter ('17) Staff Writer
On March 11, 2017, students in the Experience Industry Management (EIM) Department transformed the San Luis Obispo Veterans Hall into an early 20th century ballroom for the department's 16th annual auction and dinner fundraiser. A night of mystery and celebration, "EIM Unsolved" raised over $50,000 and recognized the outstanding alumni, students, parents and industry friends who contribute to the department's success.
Activities included a mystery wine pull, raffle, trivia games, and dinner catered by
Field to Table Catering & Events. Additionally, the more than 200 people in attendance bid on silent and live auction items to support the program and its students. Auction items included local wine, sports gear and memorabilia — including the opportunity to catch a signed baseball from former Major League Baseball player and White Sox Manager Robin Ventura — and exciting vacation getaways to Mexico, Las Vegas and Florida.
EIM Professor Brian Greenwood and alumnus Robert Cooper ('11) served as the evening's emcees, and California mixed media artist Deprise Brescia was the evening's honored guest. Brescia created "See Cow Do," the EIM Department's entry into Cow Parade SLO. A video highlighting Brescia's inspiration for the artwork and her design of the cow, which included artistic renderings of iconic California locations, was played for event attendees.
Funds from the dinner and auction are used to support student and program development, such as travel to attend or present at conferences and career expos, field trips, Learn by Doing class content, the executive-in-residence program, guest speakers, and other extracurricular activities that are a mainstay of student learning in the EIM Department. A number of national companies and individuals supported this year's event and the Experience Industry Management Department by donating $1,000 or more to the Student Professional Development Challenge. Those companies include: George P. Johnson, Lauch Inc., Pebble Beach Resorts, as well as Mr. Brian Ternan.
"Planning the annual auction and dinner is always the highlight of my year because it gives students the ability to see an event from start to finish and provides a true Learn by Doing experience," said Brooke Campbell, student event chair. "I enjoy working with my colleagues, the faculty and the advisory council to put on a fabulous event that gives back to the students. It was exciting to turn an empty Veterans Hall into a beautiful venue, and the guests seemed to have an amazing time."
Faculty director Jenn Prentice and a student committee plan the annual auction and dinner. The 2017 event was made possible by sponsors Field to Table Catering & Events, Central Coast Party Helpers, Zest it Up, Embellish, All About Events, Kramer Events, and Karson Butler Events.
Save the date for next year's event at The Cliffs Resort on February 24, 2018.
CAFES Summer Undergraduate Research Program
Berlin Lopez ('17) Staff Writer
Back again this year, Cal Poly's College of Agriculture, Food and Environmental
Sciences is sponsoring the Summer Undergraduate Research Program, giving Experience Industry Management (EIM) Department faculty members and two students an opportunity to participate in summer 2017.
Professor Kevin Lin is teaming up with students Mia Ferrer ('18) and Isabella [Bella] Zaayer ('18) on "The Impact of Internet and Social Media Usage on Event Attendees Satisfaction and Expenditure" research project. Professor Keri Schwab is mentoring EIM Student Derek Johnson-May. Their biggest challenges are narrowing the topic. Despite these difficulties, the student researchers participated in the Kickoff Symposium on June 30, 2017. 
Mia Ferrer ('18) shared, "participating in the CAFES Undergraduate Research Program has been a great experience so far doing things like literature review and data analysis. I want to attend graduate school at some point in the future, and having experience doing research and compiling and analyzing data will really help when I decide to go back to school after working a few years in the EIM field. I am so excited to see the results and present our finished project at the end of the summer!"
At the research projects' completion, EIM student participants will present their findings in a symposium with their peers in the Undergraduate Student Research Program. Lin recommends the Summer Undergraduate Research Program to EIM students looking to get a new perspective on planning and research.
Experiences that Power Brand Devotion
Industry leaders Share Valuable Lessons with Students
Sam Snowden ('20) Staff Videographer
Robert Vallee Jr., chairman and CEO of Project Worldwide, and Chris Meyer, CEO of George P. Johnson (GPJ), both top global experiential marketing leaders, spoke to a packed room during spring quarter. They talked about how experiences inspire people to participate and to act on behalf of brands.
Their message reinforced the power of the experience and highlighted why Cal Poly's experience industry management's curriculum and other departments at Cal Poly – including Construction Management, Graphic Communication, Mechanical Engineering, Journalism and Marketing – are relevant to GPJ's success.
A key takeaway from the presentation can be summed up in a quote from Vallee: "I want you also to be able to talk about this … what do I mean by that? I mean, that you may be one of the most knowledgeable people in the room, but if you can't communicate that, then the value of you as an individual is significantly diminished. I can't tell you how many times I've walked out of a meeting and I have said to a person, you were supposed to speak up in there, that was your section, and that was what the guy asked … why did we not touch on that … and we lost it."
Meyer is a leader of an incredible results oriented team at GPJ that focuses on
innovative experience-driven marketing programs on behalf of many of the greatest brands in the world. Marketers are making the connection between immersive brand experiences and effective, results-oriented consumer engagements - in both the phychical and digital worlds. No other agency challenges itself like his does to outperform for GPJ clients. 
GPJ's team also includes Marcelle Hampton, vice president of account management, and Yen Tsutsumi, vice president of event production, who network with EIM faculty to create internship and career opportunities for students. Hampton has also served on the EIM Advisory Council for several years.
GPJ sponsors a generous scholarship for key experiential marketing students. The scholarship is announced at the end-of-year celebration. This year, senior Joanne Kirkby was selected as the experiential marketing scholarship winner.
For those who weren't there, sophomore Sam Snowden created a short event video. Watch it here >>.
The Experience Curriculum is Launched
Gabriela Scioli ('18) Staff Writer
Big changes are about to take place for the students and faculty in the Experience Industry Management (EIM) Department. Faculty members have been working for two years to enact changes to the department's curriculum for the 2017-19 Catalog in order to stay at the forefront of industry trends and to provide a cutting-edge experience for students. The new curriculum will be in effect for students entering in fall 2017, and current students will have the opportunity to switch to the new catalog.
The most significant change is a transition from a focus on recreation, parks and tourism to an emphasis on the planning, design, management and assessment of experiences in a variety of settings. Courses throughout the curriculum will reflect this change, which also coincides with the department's fall 2016 name change to Experience Industry Management.
Another shift restructures the concentrations to reflect the curricular changes and niche career opportunities for students' career preparation. The 2017-19 concentrations will be event planning and experience management; sport and recreation experience management; and tourism, hospitality and destination management.
In addition, other changes in the major's core courses and support area will be
initiated. First, the internship requirement is being changed from six to 12 units to assist students who need to meet financial aid requirements, to help students graduate in a more-timely and cost-effective manner, and to coincide with the unit allocations of other accredited programs around the country. Moreover, managerial accounting has been added as a required major support course based on recommendations from the department's advisory council, internship supervisors and key industry leaders. Finally, three new support elective areas have been developed in leadership and management; marketing, technology and analytics; and sustainability and the global society. Students will choose eight units from one of these three areas, essentially allowing them to further their specialization and expertise related to their concentration.
"We're really excited about the ability students will have to tailor their elective courses to their career paths and interests with the support and career elective areas," said Professor Jerusha Greenwood. "For instance, students who are interested in experiential marketing and event planning and management can tailor their electives around marketing, public relations, communications and customer experiences."
Check out the new curriculum here >>
Department Welcomes New Faculty Member Amber Karson
Kensey Nadler ('19) Staff Writer
The Experience Industry Management Department's newest faculty member, Amber Karson, has it all: knowledge, industry experience and a whole lot of spunk. The Cal Poly alumna (Business Administration, '01), part-time lecturer and successful businesswoman joined the department in winter quarter 2017.
After earning her degree at Cal Poly, Karson first moved to Los Angeles to launch her event planning career in the investment industry. She excelled as a corporate event planner at prestigious investment firms American Funds and Franklin Templeton Investments which eventually led her to Washington, DC. She earned her Certified Meeting Professional (CMP) designation in 2007.
In 2008, she and her twin sister, Emily Butler started Karson Butler Events (KBE), now one of the top luxury event planning companies with hundreds of high-profile clients spanning the globe. In 2014, KBE flourished into a bi-coastal company when Karson returned to open KBE's new west coast office in the founder's home state of California. KBE serves a diverse client base and plans detailed experiences ranging from large corporate events to individualized weddings and other social occasions.
This past November, KBE opened its first retail location in the historic A.H. Louis Building in downtown San Luis Obispo, California. The building was established in 1874 as a
general merchandise store, providing food and basic essentials for workers. Now, this chic storefront features a rental design showroom, greeting cards, stationery, hostess gifts, and colorful products for every type of celebration. In addition, KBE at the Ah Louis Store offers a variety of classes each season focused around entertaining and celebrating - past examples have included creating craft cocktails, floral design & hand lettering.
Karson appears to have the best of both worlds: traveling worldwide to create award-winning events, then returning to San Luis Obispo to run a business in a beautiful downtown location.
Karson was named one of the Top 25 Young Event Professionals to Watch by Special Events Magazine, and is regularly featured in prestigious industry publications like Martha Stewart Weddings, The Knot, The Washington Post and has even appeared on The Today Show! Her 16 years of event planning expertise coupled with her recent role as a advisory council member and part-time lecturer at Cal Poly, she has become a highly-qualified and sought-after mentor.
During winter quarter, Karson shared her expertise with experience industry management students in a 10-week event planning course. Students enrolled in RPTA 320: Special Event Planning learned about the various aspects of planning, designing and marketing large-scale events. The students were fortunate to gain knowledge from Karson's firsthand experience, and they acquired an inside perspective of event planning from someone intimately involved in the intracacies of the field.
This summer KBE brought on two Experience Industry Management students as associates for the summer season. Read more >>

From left: Prof. Kevin lin, CAFES Dean Andy Thulin, Department Head Bill Hendricks, Prof. Keri Schwab, Melinda Lynch of Horticulture and Crop Science Department and EIM's newest addition Amber Karson.
This past spring, Karson took the lead as director of the Experience Industry Management Department's annual auction and dinner fundraiser to be held at The Cliffs Resort on February 24, 2018. A team of approximately 30 students are working with Karson to create a unique auction and dinner experience for students, parents, alumni, and friends of the program to enjoy next winter.
Karson's multi-faceted talents are a welcome addition to the department. She is proving to be an inspiring addition to the program and an integral part of the larger experience industry management community.
Where in the World Can You Go with EIM?
Kristen Byron ('17) Editor
Berlin Lopez ('17) Staff Writer
Cal Poly Experience Industry Management (EIM) students may soon be able to study abroad in Munich, Germany, thanks to the efforts of Department Head Bill Hendricks,
who earlier this year traveled to the Munich University of Applied Sciences (MUAS). Hendricks was there to explore a partnership between Cal Poly and MUAS, both of which have departments with a focus on tourism. Representatives from MUAS have visited Cal Poly four times already, and are very interested in establishing a relationship with the EIM Department.
As part of the EIM Department's interest in expanding international experiences, Dr. Hendricks independently hosted two European faculty members during spring quarter: Toni Bauer, a visiting faculty member from Munich, and Kirta Nieminen, from Finland. Leaders of EIM's professional honorary society Rho Phi Lambda extended a warm welcome to both international visitors, coordinating presentations, tours and group meetings with students, faculty and leaders in the local industry.
Professor Bauer, from MUAS, teaches intercultural competence, adventure sports, and tourism. Bauer's favorite part about her visit to the EIM Department was observing classes and talking to students. She noted that the amount of group work done at Cal Poly is greater than that done at MUAS. "The teaching style here is inspiring," Bauer said. "Both the students and faculty are smart and engaged." Bauer is excited at the possibility of a faculty exchange program and hopes to collaborate on joint research projects. Bauer thinks there is a good fit between the two departments.
Professor Nieminen, from Seinäjoki University of Applied Sciences in Finland, looks forward to the possibility of an exchange program, between Cal Poly and her university. "There are many possibilities to build an exchange program for Cal Poly students. Students can come to Finland to do their internships or studies. Finnish students are very keen to come to the United States."
There are many enticements for Cal Poly EIM students to study abroad, Hendricks said. "The Bavaria region of Germany – on the edge of the Alps – is considered to be more laid back. It is a very outdoorsy type of place. It is rich with history and culture, which is very enticing to our students. The cost is also very reasonable for our students to go to Munich." Students should not be surprised to see the partnership between both universities grow within the next school year. Hendricks anticipates available opportunities as early as spring 2018. Until then, contact the Cal Poly Study Abroad office to find out about international opportunities!
Cal Poly at the 2017 Visit California Outlook Forum 
Kat Porter ('17) Staff Writer
Experience Industry Management (EIM) Department Head Bill Hendricks, Professor Jerusha Greenwood, and six EIM student leaders attended the the 2017 Visit California Outlook Forum, held at the Bacara Resort in Santa Barbara, California, in February.
The sold-out, two-day event gives tourism professionals from around the state a platform to network, strategize and learn from each another about international and national travel trends and destination marketing. Visit California President and CEO Caroline Beteta spoke about the organization's strategy to attract tourists. Representatives from Expedia Inc. and Facebook Inc. spoke, as well as Alex Cruz, CEO of British Airways, and Tom Garzilli, chief marketing officer for Brand USA, talked about tourism marketing trends. Additional presentations were given on such topics as "Mobile Moments: Inspiring the Consumer Journey" and "Why 'Social' Means 'Mobile' in 2017 and Beyond." A celebrity chef panel and Olympic medalist Jonny Moseley spoke about the importance of creating experiences.
The students who attended agreed that the conference was an important educational
opportunity, allowing them to make connections between their EIM coursework and the tourism industry. Recent EIM graduate, Maxime De Jonge ('17), who has attended a couple of conferences, said, "The Outlook Forum is by far one of my favorites. I particularly enjoyed networking with industry professionals and the representatives from Visit California's major international markets. Other than meeting industry professionals, I very much enjoyed hearing experts speak about current trends and implications affecting the tourism and hospitality industry."
The conference also provided students with relevant knowledge and tools to succeed in their senior internship course, RPTA 465. Corinne Smith ('17) thought the conference was very educational. "I learned so much about the destination marketing world from the different sessions. This helped me during my internship with Visit SLO CAL (the San Luis Obispo County destination marketing organization). I learned about the importance of working with international partners, how social media affects the tourism world, and so much more. I was able to take what I learned from class and build on it through this conference. I would recommend it to any student."
In addition to its educational benefits, the Outlook Forum also encourages attendees to enjoy themselves. Students got a taste of the Santa Barbara culinary scene during a networking session.
The Visit California Outlook Forum is a professional development channel for students making new connections and creating friendships and experiences. It also helps shine light on how the EIM Department's fundraising efforts benefit students' professional development.
More than a Motto: The Meaning Behind Cal Poly's Learn by Doing
Jo Kirkby ('18) Staff Writer
Learn by Doing. This philosophy is ingrained in faculty, staff and students and is a strong force present in all aspects of Cal Poly. It is not just a phrase, it is truly an integral part of the Cal Poly experience that permeates all areas on campus.
A small group of Cal Poly faculty wanted to highlight, explore and celebrate Learn by Doing both in and out of the classroom. This unique philosophy that is the heart of Cal Poly inspired these faculty to write the book "More than a Motto: The Meaning Behind Cal Poly's Learn by Doing Signature."
More than four years in the making by EIM professors Brian Greenwood and Keri Schwab, the book officially launched on May 19, 2017. Greenwood conceived the project idea, then brought on Schwab and Dawn Janke from the Writing Center to help write, and Lorraine Donegan from the Graphic Communication Department to direct photography, layout and design. The book launch event celebrated the completion of the book, and the event was deemed a success.

From left: President Armstrong, Prof. Dawn Janke, Prof. Lorraine Donegan, Prof. Brian Greenwood, and Prof. Keri Schwab.
Junior Joanne Lodato, who helped plan the reception, said, "Hearing President Jeffrey D. Armstrong and the provost speak so highly of our professors was truly inspiring. The professors really gave Cal Poly a gift," Lodato said.
The project was originally approved in September 2014 and kicked off with a conference in May 2015, when 300 Cal Poly faculty, staff and students shared their own Learn by Doing experiences. Greenwood, project lead, shared how the book aims to provide a deeper meaning of Learn by Doing and tells a story with pictures integrated throughout the text.
The book features case studies of each of Cal Poly's six colleges as well as other units on campus, including the Associated Students Inc. "The case studies provided a really amazing example of what students, faculty and staff are collaborating on," Greenwood said.
Greenwood and Schwab both made it clear that "More than a Motto" is only just the beginning of the project. An e-book is in the works, which Schwab described as a more interactive version of the original book, and will include video interviews of those featured in the case studies. Another conference will take place Nov. 3, 2017, that will continue to highlight and celebrate Learn by Doing. "Learn by Doing is dynamic, so every day we're creating new case studies, and it's important to continue telling the stories," Greenwood said.
The EIM Department is proud to have inspiring professors who are leading the way in highlighting and celebrating Learn by Doing in action across campus.
Connections are Key
Student Brooke Campbell Talks About Finding the Right Internship
Emily Duncan ('17) Staff Writer
Every quarter, Experience Industry Management (EIM) students venture off to fulfill their internship requirements all around the country and sometimes the world. Brooke Campbell had the amazing opportunity to complete her internship winter quarter at the Pebble Beach Co. Inc. in Monterey, California. Before that experience, Campbell had been exposed mostly to smaller events, so she was hoping the Pebble Beach Co. would give her the opportunity to learn how large-scale events are planned and executed.
As a student in the event planning and management concentration, Campbell found her role as a special events intern very fitting. The department she was assigned to plans world-class events such as the Pebble Beach Concours D'elegance, the U.S AT&T Pro Am, and the U.S. Open. Through her experience, she learned how to use event-specific software like Delphi and Visio. These applications helped her create banquet event orders and diagrams for upcoming events. Her internship also provided her the opportunity to assist in the planning and execution of the 2017 Pebble Beach
AT&T Pro-Am Golf Tournament and the 2017 Pebble Beach Food & Wine event.
Planning these extravagant experiences with individuals in various departments gave Campbell a unique foundation to launch her career. She said that one of the biggest lessons she learned during her time at Pebble Beach was to "leave no stone unturned." Making connections with her colleagues had a big impact on her experience at Pebble Beach. Campbell noted that making good connections and working hard often leads to recognition and "may result in a job offer elsewhere in the company."
When asked if she had any advice for fellow undergraduate EIM students regarding the internship process, Campbell said, "Don't take the first opportunity that presents itself just to pass the internship requirement. It's important to find a company or position you know you will love and are passionate about because you will be spending a very large chunk of your time with them." Campbell also went on to talk about the importance of utilizing your networking connections as well as connections that the EIM faculty and staff might have. She believes that these connections are key to finding what you want in an internship.
Campbell continued to work at Pebble Beach Co. through spring quarter. She enjoyed her time there and learned valuable skills that she will be able to use in the workforce. Campbell believes that the experiences you have and the connections you make during your internship are extremely important. "In the end," she advises, "Work hard and do your best! It pays off!"
EIM Students Practice Sustainable Tourism in the Dominican Republic
Kristen Byron ('17) Editor
Where in the world did Experience Industry Management (EIM) Professor Keri Schwab take a group of her RPTA 412: Sustainable Tourism students? Back to the Dominican Republic for another spring break trip.
The students prepared winter quarter for the in-country experience by studying Dominican culture, traditions and sustainable tourism practices. As winter quarter came to a close, the students were eager to "learn by going" and witness Dominican customs firsthand.
The small, all-female group first visited Santiago, one of the largest cities in the Dominican Republic. They explored the city by finding iconic statues and buildings during a scavenger hunt. Then they enjoyed a delicious, authentic Dominican dinner of rice, beans, fried plantains and grilled chicken.
Next, the group travelled to the northern province of Puerto Plata and stayed in an eco-lodge about 20 minutes away in Tubagua. They agreed that the eco-lodge had one of the best views of the country. Looking out of their three-walled bedroom, they could see the vivid green mountainside contrasting with the turquoise blue tropical waters. In addition to the breathtaking view, the group enjoyed activities such as climbing through an amber mine, jumping off waterfalls, and interacting with the locals. Mia Claridy, environmental management and protection ('17), talked about the interesting dynamic between tourism and natural areas of beauty, which attract scores of tourists. "The waterfalls known as '27 Charcos' are beautiful but extremely over-crowded," she said. "It will be interesting to see how the people decide to manage the increasing popularity of the waterfalls moving forward."
One of the most memorable parts of the trip for junior Katie Dean was seeing the conflict between the residents of the Dominican Republic and the undocumented Haitians who live at one of the many batays, like shantytowns. "It was eye-opening to see how these people were living," Dean said. "They didn't have things as simple as a trash pick-up system. But despite their living conditions, one woman looked so happy, which made me aware and appreciative of my situation." The group ended their trip in the town of Samaná on the northeastern side of the counry. They enjoyed sunny weather, fresh food, and playing in the ocean. "My favorite part was boating out to a small little island to snorkel. There were so many colorful fish, and I saw the tiniest jellyfish," recalled junior Megan Reissig.
The group was sad to leave the Dominican Republic after a week filled with enjoyable learning experiences. The class and trip gave them an opportunity to build friendships and to gain exposure to a new culture. "The trip encompassed the complete Learn by Doing ethos. I never thought I'd be able to study and research a place and then have the chance to go and experience it," Dean said. "I'll never forget it; it was the trip of a lifetime!"
For students who missed the trip, Professor Marni Goldenberg is planning a course that will take students to Costa Rica over spring break 2018. The department plans to hold informational sessions for those interested in learning more about the trip. Look for informational emails in fall quarter for session dates and details.
Tobi Jo Greene: Outstanding Alumna
Gabriela Scioli ('18) Staff Writer
Alumna Tobi Jo Greene (Recreation, Parks, and Tourism Administration, '98) was presented with the 2017 Outstanding Alumni Award during the 16th Experience Industry Management (EIM) annual auction and dinner in March. Greene, restaurant owner, nonprofit director and community organizer, said it was an "incredible surprise" to receive the award.
"I was flooded with emotions and memories of my experience at Cal Poly. The department has grown so much and has become what I consider to be one of the best opportunities for a college student with a passion for people and business," Greene said.
Greene graduated from the EIM Department, formerly the Recreation, Parks, and Tourism Administration (RPTA) Department, with a concentration in environmental education. Following graduation, she took a position as a full-time park ranger with the city of San Luis Obispo Parks and Recreation Department.
Greene's volunteer work at the Sexual Assault and Rape Prevention (SARP) Center in San Luis Obispo led to full-time employment there as a prevention educator and sexual assault response team advocate. "These two positions, paired with my experience in Cal Poly's RPTA porgram, led to my passion for empowering youth through education and wilderness experiences," Greene said.
Greene expanded on her passions by starting a nonprofit organization, "The Girls Empowerment Workshop," in 2006. She is also founder and president of the Ojai Valley Bicycle Coalition. In addition, Greene and her husband own and operate a restaurant in their hometown of Ojai.
Cal Poly provided Greene with an incredibly well-rounded education that gave her
many opportunities to explore experiences relating to a career in her field of study. "I will forever be grateful for Cal Poly's EIM Department and the professors. They prepared me professionally, socially and passionately for the real world of blending fun with business," Greene said.
Greene shared how meaningful her time at Cal Poly had been and how the EIM Department provided her with the necessary skills and the exposure to possibilities that she utilized to successfully create and run an organization for teens. The organization provides Ventura County teenagers opportunities to be empowered and to connect with nature.
The EIM Department is proud to have successful alumni like Greene, who has continued to uphold the values of the department in all her post-graduation endeavors. The department congratulates her on all her accomplishments and on being this year's recipient of the Outstanding Alumna award.
Cal Poly Experience Industry Management at the Cal Travel Summit 2017
Berlin Lopez ('17) Staff Writer
Experience Industry Management (EIM) Department Head Bill Hendricks, Professor Jerusha Greenwood, EIM student leaders and five Recreation, Parks, and Tourism Administration alumni traveled to Newport Beach, California, to attend the annual Cal Travel Summit during the last week of June. The much-anticipated event, hosted at the Newport Beach Marriott Resort, featured a three-day platform for tourism professionals to network, strategize and learn from one another about international and national travel trends and destination advocacy.
EIM student Kat Porter, along with students Berlin Lopez and Maxime De Jonge, also attended the 2017 Cal Travel Summit, while Corinne Smith and Ellie Erickson returned as scholarship awardees and were honored center-stage by Cal Travel.
Emerging industry leaders and EIM alumni Keri Forsberg of San Luis Obispo Chamber of Commerce, Vanessa Martinez of Downtown SLO, Lindsey Walker of Visit Anaheim, Teresa Karcher of Paseo Hotels, Roxanne Noland of Catalyst Marketing and Cal Travel, and Chantal Lasher of San Francisco's Brit + Co were honored with the Cal Travel 30 and Under Award.
The Cal Travel Summit brings members of the travel and tourism industry together to hear speakers and panel discussions on important issues, provide networking opportunities and workshops, and host social events such as the opening night dinner party at the Newport Beach Country Club.
EIM students attended sessions and gained insight into the world of political action committees, tourism advocacy and industry networking. Roger Dow, president and CEO of the U.S. Travel Association, spoke about national trends and issues facing tourism and the new presidential administration's national tourism policy. One presentation, "Tourism Priorities, 2017 Bills to Watch," focused on the more than 2,000 bills introduced this year and how to be part of the tourism industry solution. Peter Kageyama, is the author of For the Love of Cities presented "Creating Lovable Cities and Communities." Jeff Fromm, author of "The Millennial Mindset: The Rise of the Prosumer," and "How to Create a Frictionless Journey for the Mobile-first Consumer" presented to a packed room.
At the conclusion of the summit, student Corinne Smith was surprised to learn she had won the Apple watch giveaway.
Rho Phi Lambda Kicks-up This Year's Career Fair
Gabriela Scioli ('18) Staff Writer
Sixteen companies from up and down the state of California and beyond were in attendance at the Rho Phi Lambda 2017 Career Fair.
Students had an opportunity to talk about careers with members of various industries, including sports franchises, catering and event firms, casinos and cruise companies, among others.
Field to Table Catering & Events displayed elegant décor and photos from past events, while the Cal Poly Athletics Marketing table was laden with the Mustang's green and gold spirit. Rho Phi Lambda leadership welcomed local favorites from San Luis Obispo County such as Martin Resorts and the Allegretto Vineyard Resort. Students connected with representatives from Launch Inc. in San Francisco and Big Sky Resorts in Montana. Participating industry members that donated support to Cal Poly Rho Phi Lambda included: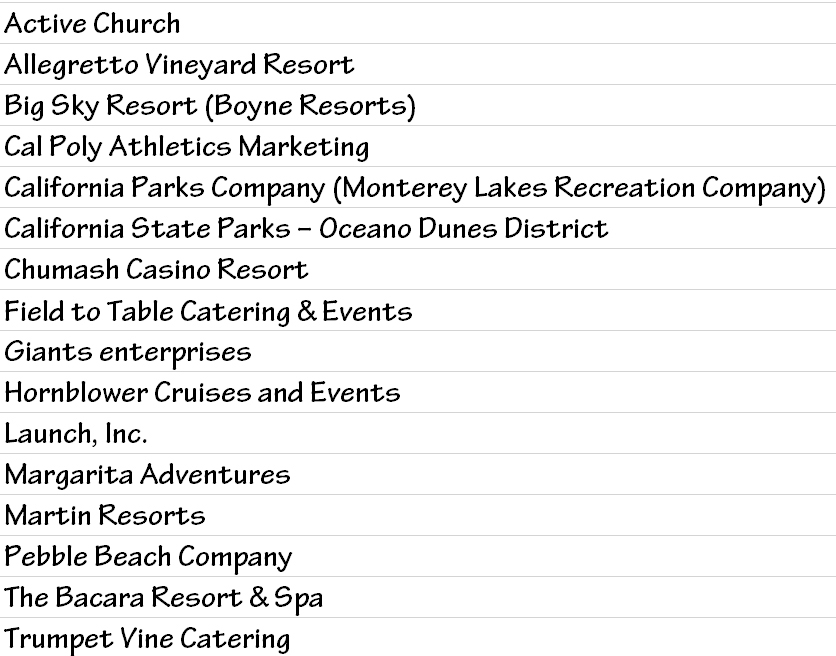 These companies make time for the Experience Industry Management (EIM) Career Fair because it provides them with a one-day opportunity to easily meet with talented and motivated students who have an interest in destination management, hospitality, event planning, tourism, outdoor recreation, community recreation, and sport management.
Rho Phi Lambda is a professional recreation, parks and leisure national honorary society. It aims to give students a glimpse into their futures, as well as providing them with opportunities to network with industry professionals. The EIM Department event was a huge success. Interested companies are invited to join the Career Fair in March 2018. Next year's date is yet to be determined, but more information will be available on the website in January 2018.
RPTA 412 Yosemite Trip
Kensey Nadler ('19) Staff Writer
When most students think of a classroom, they imagine fluorescent lights and small wooden desks. However, in the Experience Industry Management (EIM) Department, classrooms are ever changing, alive and expansive within the natural world. That was especially true for students enrolled winter quarter in RPTA 412: Adventure Travel and Tourism, which took the students to Yosemite National Park, where freshly powdered trails and 3,000-foot walls of shimmering rock form a pristine and balanced classroom for students to stretch their minds, acquire knowledge and grow professionally.
On a weekend early in March, a group of passionate Cal Poly students set out to delve into industry presentations and direct field experience in the booming adventure travel industry. Professor Susan Mackenzie taught the course as one of her final classes before embarking on a new career in New Zealand, the adventure capital of the world, to spend time with her growing family.
Students in the course were given a unique opportunity to gather knowledge in a classroom setting while engaged in lecture and then hit the trails of Yosemite's mountains for a true adventure. Twenty students arrived in Yosemite National Park on a Friday afternoon for a full weekend of presentations and hands-on activities. Keynote speakers included Heather Sullivan, founder of Balanced Rock, which leads holistic backcountry trips that inspire health and wellbeing through a deep connection to nature and spirit. Students also attended to an informational discussion by the National Park Service regarding the implementation of the Half-Dome stewardship action plan.
Friday night, students unwound after the long day with a professionally guided astrological walk highlighting the stars brightly speckled against the valley's sky before falling into a peaceful sleep in Yosemite's Curry Village. On Saturday students headed up to the famous Yosemite mountaineering school for snowshoeing. For students interested in careers in the adventure travel industry, this class provided real-world applications and countless Learn by Doing activities. Sophomore EIM student Victoria Duncan summed it up: "The Yosemite trip helped me visually experience the adventure travel industry that is growing rapidly in popularity and importance. Opportunities such as this one, in which we apply hands-on learning, both on the trail and in the classroom, make Cal Poly's EIM program unique."
End of Year Celebration
Gabriela Scioli ('18) Staff Writer
As the school year ended, the club hosted its annual end-of-the-year awards reception, which this year included a picnic and tickets to a SLO Blues baseball game including a dinner voucher. EIM Department awarded student scholarships and recognized senior superlatives.
Commencement 2017
Excitement built as Bill Hendricks, Experience Industry Management (EIM) Department Head, led graduates and faculty into Spanos Stadium on June 18, 2017. The 9 a.m. Father's Day ceremony was a hot one! By the end of the main ceremony, the temperature had soared to 90 degrees.
Following the main ceremony, the EIM Department held a festive post-commencement reception for graduates, faculty, families and friends under shady trees and bright white umbrellas. A disc jockey played lively music, graduates posed for their class photo, guests enjoyed cool drinks and snacks – all while surrounded by happy families.
The graduates' hard work was celebrated by their proud families and faculty members, who wished the new graduates well in all future endeavors.
2016-17 CAFES Experience Industry Management Faculty Awards
Emily Bishop ('17) Staff Writer
Bill Hendricks, Experience Industry Management [EIM] Department head, celebrated the end of the academic year with well-deserving faculty and staff at the annual College of Agriculture, Food and Environmental Sciences (CAFES) awards event, held in the Performing Arts Center Lobby on June 13.
EIM faculty and staff had good reason to celebrate that night, as EIM faculty swept three of the 10 awards! This was all done "fair and square" through a formal nomination process. At the college's request, an Awards Selection Committee evaluates the nominations and selects the winners. Colleagues nominate the awardees based on demonstrated excellence in their professions and outstanding contributions and accomplishments to the department, college and university.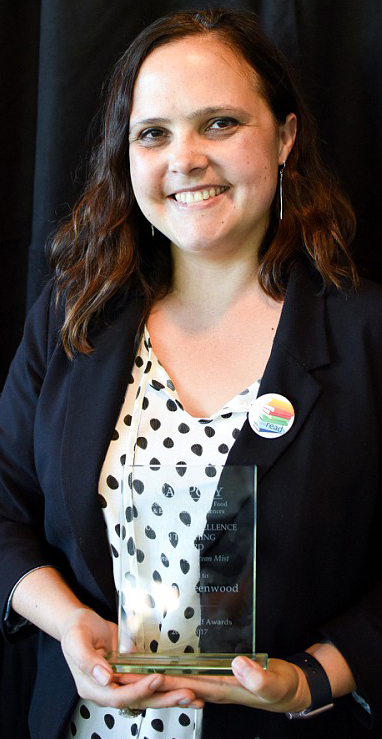 CAFES Dean Andy Thulin presented the Sustained Excellence in Teaching Award, sponsored by Ocean Mist, to Professor Jerusha Greenwood, whose specialty areas are tourism planning and management, sustainable tourism, agritourism and wine tourism. She teaches the introduction course for incoming students and RPTA 313: Sustainability in the Experience Industry. Greenwood aims to create an "experientially engaged" classroom based on exploration of the major program. She ensures that new students get an informed academic journey in the introduction course. She also oversees the internship program in which students complete 400 hours of concentration-specific practical work experience over a 10-week period as part of their culminating academic experience.
After the cheering for Greenwood calmed down, EIM supporters again rose – this time in support of Professor Kirk Sturm, who earned the Outstanding Lecturer Award, sponsored by Rain for Rent. Sturm lives what he teaches. He creates a classroom learning environment that encourages creativity and inclusivity. Every quarter Sturm invites students to develop team building and leadership skills while including technical and specialized knowledge from risk management and his law background.
The evening's excitement continued as the third EIM award was announced: the CAFES Outstanding Mentor Award, also sponsored by Rain for Rent, went to Brian Greenwood. Greenwood was cited as being "always ready for whatever opportunities come his way." For the past two years, he was part of the team that created "More than a Motto – Cal Poly Learn by Doing," an outstanding collector's book highlighting Cal Poly's hands-on philosophy that was published this spring. Greenwood is credited for the successful completion of this important book project as well as the success of the EIM Department mentoring students and faculty alike.
These outstanding faculty members earned their awards! Their specialized knowledge and their ability to recognize opportunities while sacrificing personal time and taking on the challenges of academia is what makes this university great!
More than Just Data Points
– Interpreting Experience Industry Data Analytics
Emily Duncan ('18) Staff Writer
Cal Poly's Experience Industry Management (EIM) Department is known for offering unique classes, and its upper division seminar course, RPTA 412: Tourism and Outdoor Applications, is no exception. Students can earn one to four units in this "variable topics" class, designed to cover contemporary course content on a range of topics.
During winter quarter 2017, Professor Kevin Lin taught his own version: Interpreting Experience Industry Data Analytics. He taught the class because he believes that all EIM students should have a basic foundation in data analytics and also because he loves to "play with data" and is passionate about the subject.
His focus on data analytics – both professionally and personally – is as evident in his scholarly presentations at conferences as it is when he recalls amusing stories about his personal spending on Amazon.com and his involvement in the stock market. Lin's extensive use of data analytics shows that this is a topic that can be applied to anything and everything.
Lin is not the only one who believes in the value of data analytics. The department's advisory council members and industry partners have also commented on the need for EIM students to have greater depth of knowledge in this area. And so, Lin offered the two-unit class to test the waters while the department develops a permanent course focused on the topic.
The class is designed to give students a comprehensive first exposure to the subject. It focuses on how to "learn effective strategies and methods for interpreting analytics and communicating insights to key stakeholders." Students have the opportunity to work with industry software, such as Power BI, and to create presentations based on their findings. According to Lin, communication is key. Being able to clearly present your findings to stakeholders is what makes the data so powerful. The data has a story to tell, and it is important to relay that story in a clear and compelling manner.
A highlight of Lin's class was learning from guest lecturer Scott Kellner, vice president of marketing at George P. Johnson, about data analytics specifically in regard to experiential marketing. George P. Johnson is one of the first companies in the experience industry management field to harness the power of data analytics. "It was especially interesting to hear from someone in the industry talk about the importance of data analytics," said Emily Bishop, a senior EIM student.
The use of technology in the experience industry management field is just beginning, and it is on the rise. The future of this industry – and many others – lies the growing field of data analytics. Being able to analyze such topics as online registration for events and social media marketing for products will take the experience industry to the next level.
As to the future of the Interpreting Experience Industry Data Analytics course at Cal Poly, Lin hopes to keep the ball rolling. "I would love to teach it again," he said.
Meet the Staff for "The Report" Summer 2017 Newsletter
 
Staff for "The Report" are nominated by EIM faculty for demonstrating excellent writing skills in RPTA classes. Student writers then coordinate with the editor and faculty advisor Dr. Keri Schwab to develop and write articles.​
The Editor for 2016-17 is Kristen Byron (RPTA '17). Kristen honed her skills as a staff writer and is now an accomplished editor.
The staff writers for "The Report" include Berlin Lopez (RPTA '17), Emily Duncan (RPTA '18), Sam Snowden (RPTA '20), Kat Porter (RPTA '17), Kenzey Nadler (RPTA '19), Gabriela Scioli (RPTA '18), Emily Bishop (RPTA '17) and Jo Kirkby (RPTA '18).
The Report would like to thank Jo Ann Lloyd, Cal Poly retired annuitant and previous editor of Cal Poly Magazine for her professional skills and mentoring.
Meet "The Report" staff here >>
---
How do I give to Cal Poly's Experience Industry Management Department and the Recreation, Parks, & Tourism Administration Program?
Give directly to Experience Industry Management
Related Content