Winter 2011 Newsletter
Live It, Protect It, Explore It!

FROM MY LITTLE WOODEN DESK…
By: Dr. Bill Hendricks, Department Head
Since first arriving on the Cal Poly campus in 1994, I have been amazed at the rich lives that RPTA students lead and their willingness to get involved with co-curricular activities. They truly embody Cal Poly's learn by doing philosophy and they often go the extra mile to maximize the benefits of the "college experience." Recently, Cal Poly has embraced co-curricular experiences in a more formal manner, with the explicit recognition that these activities are an essential element of growth as an individual and as a component of student learning outcomes. In this issue of "The Report" several of these activities are highlighted. RPTA student involvement includes serving on professional conference planning committees, coordinating our annual RPTA auction and benefit fundraiser, testing one's limits in outdoor settings, dreaming big to land the ultimate internship, attending conferences, and serving and mentoring others both on and off campus.
At a recent meeting attended by Cal Poly's new chief administrator, President Jeffrey Armstrong, a portion of the discussion evolved around the sense of place and attachment that makes Cal Poly an institution of distinction. There was some consensus that Cal Poly is a unique community and that the units within Cal Poly such as a college or department are like a family. You will read in this newsletter about our wide-ranging sense of family. In fact, please join me in congratulating RPTA alumni Bart and Cassie on their commitment to spend their lives together. Read more.
EDITORIAL: THE VALUE OF SPORTS TO YOUTH AND SOCIETY
By Anthonia Edgren (RPTA '12), Editor, The Report
Most of us have played sports at some point in our lives. Most likely, we were children and the sport was being offered through an afterschool program, or by a local chapter of AYSO or YMCA. Either way, sports were a part of our youth. However, few of us realize how important youth sports really were in our lives. When someone asks, "Did you play sports?" and you reply "Yes, I played soccer from the time I was five until high school," it seems like it's no big deal. It is a big deal! As a child you learned key elements in that game of soccer that helped you succeed in life. Sport not only teaches physical skills but also teaches values and life lessons. Some sports emphasize teamwork, "You have to pass the ball Timmy;" or leadership, "You are team captain, so you need to take charge;" and determination, "You can do it! On any given day, anyone could win." The list goes on and on about what can be learned by playing a sport, but more investment should be put into sport at all levels. Read more
"FLY AWAY" TO THE BEST FUNDRAISER YET
By Kim Saavedra (RPTA '13), Staff Writer and Courtney Winters (RPTA '11), Guest Writer
On the evening of Saturday, February 26, the Cal Poly Recreation, Parks, and Tourism Administration (RPTA) Department hosted its annual dinner and auction fundraiser, "Fly Away with RPTA," which raised over $27,000 to help support the RPTA Department.
This annual fundraiser is a student-run event, overseen by RPTA faculty member Kendi Root, who specializes in special event planning. This year's benefit was held at San Luis Obispo's very own jet center. Unlike past years, the 2011 planning committee transformed the traditional, formal dinner reception into a more welcoming and social environment. This allowed students, alumni, faculty, and families to mingle and reconnect while enjoying the food and wine graciously donated by several of the county's finest restaurants and wineries. Guests were also able to bid on a number of exciting auction items, such as trips to the Cayman Islands, Alaska, and Las Vegas, tickets to Sea World and Disneyland, wine tasting packages, skydiving excursions, and much more. Read more.
"...BUT ONLY ONE CAL POLY!"
By Kalli Sandberg (RPTA '13), Staff Writer
"There are 87 accredited programs, but there is only one Cal Poly!" That glowing quote from Dr. Jeff Witman (York College of Pennsylvania), lead representative of the external review accreditation team, wrapped up a busy and stressful week for the RPTA department in mid-February. The visit and review by an external team is one more step in the accredidation process that is required every five years. The process will end with a hearing at the National Recreation and Park Association Annual Congress in Atlanta, Georgia in October 2011. At that time, the department will know whether our national accreditation has been renewed, but the words from Witman bode well. Witman was joined on the accredidation review committee by Dr. Candace Goode Vick (North Carolina State University) and Dr. Camille O'Bryant as an internal reviewer. O'Bryant is the department head for the Kinesiology Department at Cal Poly. Read more.

CAROLYN SHANK: ONE OF A KIND!
By Anthonia Edgren (RPTA '12), Editor, The Report


Professor Emeritus Carolyn Shank is truly one of a kind. After retiring from her 32-year stay at Cal Poly as a student and then a professor, she has participated in little of the stereotypical "retired life." Rather, she has taken on new hobbies, endeavors, and adventures, making the young at heart jealous of life after Cal Poly. How does she do it? "I never worry. I've had some health problems but it is what it is. I have a sense of humor about things. I got class clown in high school. I'm just lucky. I was born with decent genes. A slight risk taker, I put myself out there a bit." Read more.

THE HAPPIEST INTERN ON EARTH?
By Kim Saavedra (RPTA '13), Staff Writer
Stephanie Mastro, an RPTA graduating senior, has said her farewells to Cal Poly and run off to the "The Happiest Place on Earth," otherwise known as Disneyland. For this self-described Disney aficionado who even completed her senior project on the world famous theme park, working as an intern at Disneyland is a dream come true. Yet, it took more than just dreams to land the position.
Out of the 3,000 applicants, Mastro was selected with only 350 other students to become part of Disney's prestigious "College Program" in Anaheim, California. According to the Disney Jobs website, "This truly unique program allows participants to network with Disneyland Resort leaders, take part in personal and career-development classes, and build transferable skills such as problem-solving, teamwork, Guest service and effective communication. All participants will work in front-line roles at the Disneyland Resort, including Stores, Attractions, Food & Beverage, Lodging and many more." Read more
RPTA PLANNING TWO MAJOR CONFERENCES IN 2011
By Kalli Sandberg (RPTA '13), Staff Writer
The RPTA department is looking forward to a very busy year. This year, the RPTA department has taken on the huge endeavor of planning both the California Sustainable Tourism Summit and the Ecotourism and Sustainable Tourism Conference. And according to Dave Wehner, Dean of the College of Agriculture, Food, and Environmental Sciences (CAFES), these opportunities are precisely the type of "learn-by-doing" projects that help make Cal Poly such a special place. Both projects have multiple RPTA students involved in integral roles, and Kendi Root is serving as the lead faculty member and liaison for both opportunities. Read more.
JACOBS HELPS FRESHMEN ON THE PATH TO SUCCESS
By Kevin Mould (RPTA '14), Staff Writer
Upon first arriving at college, getting assimilated and comfortable in your surroundings can often seem a daunting task, especially when classes start and you find yourself thrown into an entirely new way of life. Thanks to one RPTA faculty member, freshmen have found the support and answers they were looking for. Dr. Jeff Jacobs helps coordinate "Poly Success," a program designed to empower freshmen through access to resources and a network of people who can help them find their way at Cal Poly. Read more.
SENIOR STANDOUT: TIFFANY FOWLER, ASI CHIEF OF STAFF
By Kevin Mould (RPTA '14),
Staff Writer
Here at Cal Poly, ASI (Associated Students Incorporated) plays a very important role in our daily lives. Whether it is going to the recreation center, visiting the University Union, or attending one of the university's many events, we constantly experience the results of ASI's dedicated staff. One thing you may not know, however, is that the ASI Chief of Staff, is one of our very own - RPTA senior Tiffany Fowler. Read more.
INDUSTRY CONNECTION: FOUR RPTA STUDENTS CHOSEN TO SHADOW PFK CONSULTING VP BRUCE BALTIN
By Kalli Sandberg (RPTA '13), Staff Writer
Through the CSU Hospitality Management Education Initiative's "Adopt-A-Campus" program, Bruce Baltin, the Vice President of PFK Consulting in Los Angeles, has visited Cal Poly two times in the last two years. He was so impressed that he decided to give back and offered to treat students to a job "shadow" experience at PFK. During his last visit to Cal Poly, he coordinated with officers of Rho Phi Lambda, RPTA's honor society, to hold interviews for their members to go through a professional interview selection process.
Four RPTA honors students were chosen: junior Amy Lepp, seniors Lara Choma and Nika Jalali, and graduate student Tyson Stockton. At the start of Winter Quarter, these four students traveled to Los Angeles to shadow Baltin for a day. Read more.
"OH, THE PLACES YOU'LL GO..." RPTA SENIOR FINDS NO LIMITS
By Kim Saavedra (RPTA '13), Staff Writer
In 2009, Ben Turley made the decision to forgo the Spring quarter of his junior year at Cal Poly to accomplish his life long dream of hiking the Appalachian Trail from start to finish. Turley was first inspired to hike the "A.T." at the youthful age of ten, by his father's camp employee, who had also hiked the 2,178.3-mile long trail.
Ten years later, despite the complete disbelief of his family and friends, Turley turned his dream into a reality. According to Turley, he knew from the moment he took his first steps on Cal Poly's campus for his first day of WOW, that his life decisions were now his own, and therefore, anything he set his mind to, he would accomplish. After his first year of classes as a civil engineering student, Turley switched majors to become part of the RPTA family after he simply decided, "I want[ed] to play!" Read more.
BACK IN BLACK: RPTA SHINES AGAIN AT CPRS
By Kevin Mould (RPTA '14), Staff writer
When it comes to the field of parks and recreation, there are few organizations that bring as many companies and professionals together as the California Park and Recreation Society (CPRS). And when it comes to student members with CPRS, there are no equals to RPTA at Cal Poly. For the third year in a row, more than forty Cal Poly students donning black-colored polo shirts with Cal Poly gold lettering attended CPRS's annual conference, the California & Pacific Southwest Park and Recreation Training Conference, that occurred March 8-11, 2011 in Sacramento. Read more.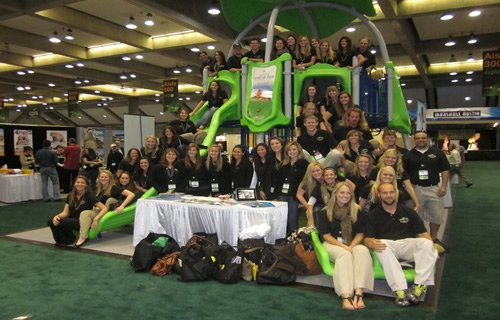 RPTA ROMANCE: MAJOR BRINGS COUPLE LOVE, THEN MARRIAGE...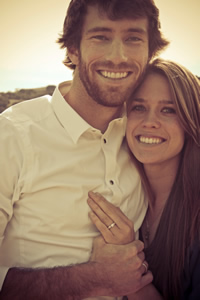 By Kevin Mould (RPTA '14), Staff writer
Being an RPTA major brings with it numerous opportunities, from providing community service to attending conferences and networking with professionals, but in the case of Cal Poly RPTA alumni Bart Gant and Cassie Walitsch, being part of the department also brought with it a fantastic new relationship. The soon to be married couple first met in Dr. Jeff Jacobs' RPTA 412: Adventure Travel & Tourism course on Cruise Tourism (their first class together). Here's how the RPTA love story unfolded... Read more.
RPTA CLUB UPDATE: BACK IN ACTION AND BETTER THAN EVER!
By Kim Saavedra (RPTA '13), Staff Writer
After a long winter, RPTA students are ready to stretch their wings and get outside to play, but not without saying farewell to winter with one last exciting adventure. This winter, twelve lucky club members ventured into the treacherous and freezing temperatures of Yosemite on a snowshoeing trip with Poly Escapes. Among these lucky members were: Ryan Swearingen, Katie Draeger, Kristina Eads, Selena Ramirez, Nikki Harth, Andrew Salter, Kiefer Reischl, Toni Hazlett, Anna Wagner, Kelly Hedgecock, Blake Lopez and Eddie Stefani. Read more.
RPTA ALUMNI DRAWN TO PEACE CORPS
By Kalli Sandberg (RPTA '13), Staff Writer
The Peace Corps is a great opportunity for students after college. Individuals coming out of our department are drawn to the experience because it involves helping people and traveling to an international location. RPTA alumnus Nic Turrentine traveled to Fiji for the Peace Corps (2007-2010) and recalls his experience, "I was a business development advisor and lived in a small village called Lavena, on an outer island called Taveuni. My primary assignment was to assist the village with improving the operations and financial management of an eco-tourism project the community was operating. I also worked with the youth running sexual reproductive health programs." One of the exciting things about working with the Peace Corps right now is that the program is going into its 50th year of helping people. Read more.
WELCOME TO NEW ADVISORY COUNCIL MEMBERS
By Anthonia Edgren (RPTA '12), Editor
This quarter, the RPTA department would like to welcome three members to the RPTA Advisory Council:
Tim Cohee, the Owner and General Manager of China Peak Mountain Resort in Lakeshore, CA;

Cheryl Cuming, Chief Administrative Officer of the San Luis Obispo County Tourism Business Improvement District; and

Jacqueline Harder Mireles, Senior Human Resources manager for the Chumash Casino Resort in Buellton, CA.
MEET THE STAFF OF "THE REPORT"
Staff for "The Report" are nominated by RPTA faculty for demonstrating excellent writing skills in RPTA classes. Student writers then coordinate with the editor and faculty advisor Dr. Brian Greenwood to develop and write articles.
The editor for 2010-2011 is Anthonia Edgren (RPTA '12). Kevin Mould (RPTA '14) and Kim Saavedra (RPTA '13) are returning staff members who began in Fall 2010, and this quarter we welcomed a new staff writer to our team, Kalli Sandberg (RPTA '13). Read more about the staff.
Make a Donation
If you are interested in donating to RPTA, please click the link below...
Related Content