Winter 2012 Newsletter
Live It, Protect It, Explore It!

FROM MY LITTLE WOODEN DESK…
By: Dr. Bill Hendricks, Department Head
Winter always seems like it should be a time to relax and come up for air a bit after a busy fall quarter, but our students and faculty jump right into several activities that keep "learn by doing" alive and well in RPTA. Successful winter projects include Eric Duarte's involvement with the Startup Weekend SLO, Katie Nice's coordination of the Rho Phi Lambda Career Fair, and the annual auction and dinner fundraiser chaired by Kaitlin Mullinax.
You will also read in this edition of The Report about Amy Lepp and Ali Bickel who are headed to Disneyworld for their internship, incredibly successful alumni Jennifer Brown, Kacie Fischer, and Molly Cano, Dr. Goldenberg's courageous battle with cancer, and class project examples of a strategic management plan and a loop trail. Other articles highlight examples of how our students continue to stretch beyond the traditional college experience by attending professional development opportunities such as the Visit California Tourism Outlook Forum, participating in study abroad programs, and joining the RPTA Club to partake in the club's numerous extra-curricular activities. Read more.
EVENT PLANNING IN THE BIG APPLE:
AN RPTA ALUM'S EXCITING CAREER
By Anthonia Edgren (RPTA '13), Editor, The Report
RPTA alumna Jennifer Brown has been hard at work in New York City since she graduated Cal Poly in 2004. Since leaving San Luis Obsipo eight years ago she has had an amazing career working for the New York City Mayor's Office of Special Projects and Community Events. She serves under New York City Mayor Michael Bloomberg. She started as an event coordinator and eventually worked her way up into her current position as Associate Director.
Working for the Office of the Mayor, Brown coordinates many of the events that the Mayor hosts in the city. It could be anything from a breakfast or dinner to the annual 9/11 ceremony to the NFL Championship Parade. There are usually 2-3 events per week, and Brown generally helps directly coordinate 3-4 per month. This year, Brown had the opportunity to help plan the New York Giants Celebration Parade after their Super Bowl victory over the New England Patriots.
Her prior experience planning the 2009 New York Yankees Championship Parade as well as the 2007 New York Giants Super Bowl Celebration Parade made this event familiar for Brown. A big part of putting on an event this massive is working with city agencies. Brown said, "A lot of city agencies help coordinate the event and work with our office to make it all happen." For the Giants Championship Parade, the 10 people who work in Brown's office had 48 hours to plan the parade. "We had to have all the right people in line to set everything in motion," added Brown. Read more.
INLINE SKATING FOR A CAUSE: A TREK ACROSS THE UNITED STATES
By Dr. Brian Greenwood, Assistant Professor and Faculty Advisor for "The Report"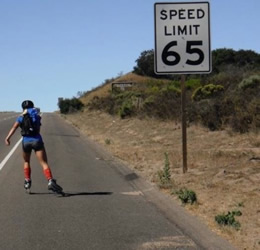 In an age where people circle the parking lots of retail stores just to get a few steps closer to the front door, one RPTA alumna is particularly inspirational. After graduating Cal Poly with a degree in RPTA in 2008, Kacie Fischer developed leg issues that prohibited her from engaging in her passion of running. For many, this may have led to inactivity. Not Kacie. She learned how to swim for exercise and soon was swimming for a mile or more at one time. Inspired and as her legs got better, she looked for other activities that did not involve the pounding of running; she found inline skating. After learning about the East Coast Greenway, a series of trails that provide a traffic-free route for non-motorized travel, Fischer decided to add inline skating the East Coast to her growing fitness-oriented "Bucket List." Then she thought, "Why not skate all the way across the country?"
That dream has become reality. On April 28, 2012, Kacie Fisher ('08) will lead a team of inline skaters across 18 states and 3800 miles, starting in the Los Angeles area and ending in New York City. The quest has been dubbed LiveGiveSkate. Soon after deciding to skate across the country, Fischer realized, "If I am going to do something this crazy, it has to be for a good cause." Through involvement with her cousin who has participated for many years with Special Olympics, she decided Special Olympics would be the beneficiary, so she formed a nonprofit organization entitled LiveGiveTrain Charities that is dedicated to putting on events such as LiveGiveSkate in an effort to give back. Read more.
'I LEFT MY HEART' AT THE

35TH

ANNIVERSARY CELEBRATION AND ANNUAL DINNER & AUCTION
By Eric Duarte (RPTA '13), Staff Writer
RPTA's 35th Anniversary Celebration and Annual Dinner & Auction, 'I Left My Heart In San Luis Obispo' took place on Saturday, February 25th at picturesque Windfall Farms in Paso Robles, California.
The event was held in a refurbished barn that once housed prize race horses with price tags of $100,00 or more. With magnificent views, lots of space, and a lively RPTA family, the stage was set for a spectacular and fun-filled evening. The theme created by RPTA students was perfect for the beautiful setting, and it produced a laid back Central Coast atmosphere that participants enjoyed. Read more.
LEARN-BY-STRATEGIC PLANNING: RPTA PROJECT GROUP AIDS LONESOME GEORGE
By Kevin Mould (RPTA '14), Staff Writer
With 'Learn-By-Doing' as its motto, opportunities abound at Cal Poly to gain practical experience and put what we learn as students into action. One such opportunity within the RPTA department is RPTA 405, a required major course taught by Dr. Hendricks, that utilizes the implementation of a strategic management plan as the main learning component. Within this plan, students must choose an organization to work with and help them revise their goals and objectives while conducting various types of analysis that will ultimately help the organization be more successful.
One such project, completed this past fall, worked with the apparel company Lonesome George, and was conducted by a team of students that included Amy Lepp ('12). The company, which draws its name from the last surviving member of a subspecies of Galapagos tortoise, gives 10% of its profits to educate people about sustainability. The connection with Lonesome George was made possible by Rodrigo Espinosa who is a Marketing and Brand Positioning Consultant for the company and also an RPTA Advisory Council member. Read more.

RPTA STUDENTS ATTEND VISIT CALIFORNIA: TOURISM OUTLOOK FORUM
By Eric Duarte (RPTA '13), Staff Writer

The Visit California: Tourism Outlook Forum 2012 was in Sacramento, California on February 22, 2012. RPTA students Ali Bickel ('12), Lindsey Serna ('13), and Selena Ramirez ('13) attended the event on behalf of our university and department and were accompanied by Drs. Bill Hendricks and Jerusha Greenwood.
The Outlook Forum was an opportunity for students and professionals in the industry to come together and discuss current trends in California tourism. Some interesting topics of discussion were California Tourism marketing strategies, policy making, and how to keep California as a top destination for tourism. Speakers included RPTA Advisory Council members Caroline Beteta, Visit California President and CEO and Vice Chair, Brand USA; and Bob Roberts, President of the California Ski Industry Association. Read more.

COPPENHAPPENINGS: A TRAVEL JOURNAL FROM STUDY ABROAD IN DENMARK
By Kalli Sandberg (RPTA '14), Guest Writer
While all you Reccies have been enjoying one of California's warmest winters in recent history, I have been learning what a real winter is like all the way in Copenhagen, Denmark. I had never experienced real cold until arriving here just over a month ago, where wearing leggings and/or tights under jeans is cool and getting ready to go anywhere takes at least 5 minutes. I am studying abroad with an American University called DIS (Danish Institute for Study Abroad) with 800 lucky students...few who actually have heard about Cal Poly or San Luis Obispo. I forget that most people outside California only know about San Francisco and Los Angeles. Read more.
AN ENTREPRENEURIAL SPIRIT: RPTA STUDENT INSTRUMENTAL IN PLANNING SOLD OUT STARTUP WEEKEND SLO
By "The Report" staff
Over 120 students and community members rallied on the Cal Poly campus to embrace collaboration, innovation, and entrepreneurship for the 1st Annual Startup Weekend SLO that took place January 20-22, 2011.
Startup Weekend is a global grassroots movement of active and empowered entrepreneurs who are learning the basics of founding startups and launching successful ventures. Startup Weekends occur all over the world, but the 1st Annual Startup Weekend SLO was organized by 3rd year RPTA Event Planning & Management student Eric Duarte along with Cal Poly students Kristin Kenney, Chris Petersilge, and Matt McGunnagle. Read more.
MOLLY CANO GIVES BACK TO HER MAJOR
By Hannah Baker (RPTA '13), Staff Writer
Cal Poly's Recreation, Parks & Tourism Administration department keeps its students informed about job opportunities, internships, and volunteer positions on a regular basis. E-mails from faculty members are sent daily to inspire and inform students about the many amazing opportunities available! It is also common for RPTA alumni to happily speak in various RPTA classrooms about possible career paths as well as their own. This is the case for one RPTA alumna in particular, Molly Cano ('06).
For Cano, she is living a career that she absolutely loves. As the San Luis Obispo County's Visitors and Conference Bureau's Marketing and Sales Manager, Cano has a lot on her plate. Working for a public, non-profit agency has been a great experience for Cano thus far. Read more.
LOOK OUT DISNEYWORLD, HERE THEY COME!
By Hannah Baker (RPTA '13), Staff Writer
Growing up, most kids had big dreams of going to Disneyland and experiencing the so-called 'happiest place on earth.' Fortunately, for RPTA students Amy Lepp and Ali Bickel ('12), these dreams have recently become a reality. Lepp and Bickel have both accepted internship opportunities through the Disney College Program this Spring Quarter at Disneyworld in Orlando, Florida. Through this program, they will be interning for 4 months, learning the ins and outs of Disney resorts, and getting the chance to feel 'like a kid' again...only this time as a professional!
The Disney College Program is open to all college students interested in networking and personal career development, but as one might imagine, competition is very tough to receive an internship offer. The fact that these two best friends and RPTA classmates both received offers, and were placed at the same resort, is simply amazing...and a testament to their hard work and the preparation provided by RPTA. Read more.

TOURISM STUDENTS CONTRIBUTE TO THE PROPOSED SLO LOOP TRAIL
By Hannah Baker (RPTA '13), Staff Writer
In Spring 2011, Dr. Jerusha Greenwood's RPTA 314 class conducted a large group project that consisted of creating a Loop Trail in the San Luis Obispo area. In essence, it is a 'trail' but in a very loose sense of the word. As Dr. Greenwood put it, "The trail is very theoretical in nature."
The SLO Loop Trail is also known as the Highway 101 Loop Trail, seeing as it connects various locations throughout San Luis Obispo County in a figure eight loop. It is a multi-mode trail that includes not only driving, but biking, running and walking as well. Ultimately, the trail was made to attract many transportation options other than just driving. Read more.

WHERE I BELONG: THE BALANCE OF CANCER AND WORK
By Dr. Marni Goldenberg, Associate Professor
As many of you know, I have been battling breast cancer for the past year and a half. During Fall 2011 and Winter 2012 quarters I balanced the fine line of work and cancer treatment. When I was told that I would need to undergo chemotherapy and radiation treatment, it was not a matter of when do I stop working, but more, when will I be normal again and when can I get on with my life. During the fall quarter I underwent chemotherapy treatment and then in the winter quarter I had radiation therapy. Read more.
RHO PHI LAMBDA'S RPTA CAREER FAIR: ANOTHER YEAR, ANOTHER SUCCESS STORY
By Anthonia Edgren (RPTA '13), Editor, The Report
Every year the RPTA honorary society, Rho Phi Lambda, works to provide a career fair geared towards professions in the hospitality, event planning, tourism, sport management, and recreation fields. This year's career fair took place in the Chumash Auditorium on Friday, February 24 from 10:00am to 1:00pm. The event was a huge success due to the hard work and dedication of the officers of Rho Phi Lamda. Students arrived in business casual attire armed with resumes hoping to find internships, seasonal or full-time employment, and volunteer opportunities. Read more.
RPTA CLUB UPDATE: SPRING'S UPON US
By Anthonia Edgren (RPTA '13), Editor, The Report
As winter has come to a close, the RPTA club looks forward to the promising spring weather and fun activities this next quarter. This year RPTA Club is pairing up with Paddle Club and will once again be sending a volunteer group to help at the 2012 Avia Wildflower Triathlon at Lake San Antonio in May. Last year, the RPTA Club volunteers played a critical role on the water, ensuring the safety of swimmers and encouraging them throughout the two-day event and will once again be returning to the water to do their part at the event. The RPTA Club will also continue their service ethic by participating in this year's Walk for Life. The club also has an exciting Poly Escapes trip to look forward to in the spring.
RPTA students, keep your eyes open and check your emails frequently for more exciting and fun RPTA Club events and opportunities coming up in the Spring!
MEET THE STAFF OF "THE REPORT"
Staff for "The Report" are nominated by RPTA faculty for demonstrating excellent writing skills in RPTA classes. Student writers then coordinate with the editor and faculty advisor Dr. Brian Greenwood to develop and write articles.
The editor for 2011-2012 is Anthonia Edgren (RPTA '13). Kevin Mould (RPTA '14) and Eric Duarte (RPTA '14) are returning staff members who began in Fall 2010 and Fall 2011, respectively, and this quarter we welcomed a new staff writer to our team, Hannah Baker (RPTA '13). Read more about the staff.
Make a Donation
If you are interested in donating to RPTA, please click the link below.
Related Content