Alumni Spotlight
Most editions of The Report, Experience Industry Management's  newsletter, include spotlights on alumni and interns. We encourage you to read The Report, but we also want to highlight our fabulous alumni and interns even more with this dedicated space.
---
Future Alumna - Sarah Sindel (RPTA '19)

Internship news from Sarah - "My internship consists of working under ASI Poly Escapes, specifically in regards to the Student-Led Trip Leading Program. My job
duties include  planning, implementing and facilitating outdoor weekend excursions for students, as well as working specifically on streamlining the current training program for those that want to become Trip Leaders. A great mix of field and administrative experience, I feel this program has developed me into a competent and confident outdoor leader, as well as a person in-tune with the importance of managing risk, promptly and fully completing tasks, and staying organized. This internship has been perfectly complemented by my coursework with the Experience Industry Management [EIM] department, formally known as Recreation, Parks, and Tourism Administration. With an Outdoor Recreation Management concentration, I was able to learn the "in's and out's" of program planning, outdoor facilitation, professionalism and customer service, leadership in diverse groups, general group management, risk management, etc- which I strongly feel contributed to my success as a Poly Escapes Trip Leader. I have the opportunity to guide international trips after graduation, and tribute this fully to my experience at Cal Poly, San Luis Obispo, specially EIM and Poly Escapes."
---
Future Alumna - Lindsey Morin (RPTA '19)
Sidenote from Lindsey - "As a non-traditional student who attended two different schools before landing at Cal Poly, I think I have a better perspective than most, and I can say that I've been astounded with the quality of the experience that this department has provided for me relative to Learn by Doing. At every turn, this major both in and outside the classroom is devoted to it and embodies it."
---
Brooks Lambertson (RPTA '15)
Sidenote from Brooks - "I used to see these blurbs on the RPTA pages and honestly would have never thought that I would be asked to write one myself.  So, please always feel free to reach out to me if you have any questions. Lots of people helped me to get started, so I would love to help out anybody in anyway that I can!  We really do have the best major at Cal Poly so we have to look out for each other!"
What's up RPTA family!  I was asked to write this blurb and don't really know how to start it, so hopefully that works…

Right when my internship with Cal Poly Women's Basketball finished this past summer, I knew it was time to start looking for jobs.  I knew I wanted to work in sports, but from there, I still didn't even know where to start (after 4 years lol).  After hearing that one of my friends' sister worked for the LA Clippers, I decided to reach out to her and ask for some career advice.  She suggested I look into a  part time job that the Clippers would be posting soon, so I decided to apply.  A couple months later, I moved down to LA and started working as Game Day Staff for the Clippers' Corporate Partnerships department.

After about a month of just working on game-days, I volunteered to come into the office during the week and help out.  While working some office hours, I learned so much, so fast, about sponsorship activation and the Clippers as a whole.  I started to come into contact with so many different people and just tried to be friendly and ask lots of questions.  After making another random connection, a coworker passed along my résumé to her manager.  I was able to schedule an interview with AEG Worldwide for an Inside Sales program.  On December 9th, I had my first day with AEG. I am now tasked with selling event suites at Clippers, Lakers, and Kings home games, and also any other seats for events/award shows/concerts held at Microsoft Theater, STAPLES Center, L.A. LIVE, or the StubHub! Center. 

Right now, I am working three days a week with AEG and two days a week with the Clippers, while continuing to work Clippers game days as well.  

I guess the moral of my little story is that RPTA taught me (among many other things) to never be afraid to reach out to somebody and ask for advice, even if I am separated by several degrees of separation.  More than likely, the person will be happy to help out and share some advice.
---
Sara Cummings (RPTA '06)
Adapted from information provided by Christi Lightcap christi.lightcap@state.co.us
Cummings is the current CEO of the Sonoma-Marin Fairgrounds and Event Center in Petaluma, California. She supervises the activities of the fair and event center while overseeing the budget, contract negotiations, and daily management of the 65-acre facility. She also coordinates with a 9-member board of directors. Cummings was previously the CEO of the Salinas Valley Fair in King City, California, where she managed the daily running of the fairgrounds while working with a 17-member board of directors and a 19-member foundation board. Her fair management experience dates back to 2007 when held the role of the Deputy Manager of Monterey County Fair in Monterey, California. Cummings has a degree from California Polytechnic State University, San Luis Obispo where she majored in Recreations, Parks, and Tourism Administration with an emphasis in Special Event Coordinating and Fair Management. Colorado Commissioner of Agriculture, Don Brown, named Sara Cummings, of Penngrove, California, as the Colorado State Fair General Manager. She assumes her role on January 19, 2016. More information can be found in Christi Lightcap's November 24, 2015  press release
---
---
Erica Francis (RPTA '06)
Adapted from information provided by Francis
An office with a view is a life goal for many people in the business or corporate world. Yet, for many RPTA graduates, an "office with a view" is their first job. Take Erica Francis (RPTA '06), a Law Enforcement Park Ranger with the National Park Service (NPS). Her first job was in Glacier Bay, Alaska (pictured above), and she now works in the Lake Mead/Grand Canyon sectors of the NPS. Francis credits her study abroad experience in New Zealand and the preparation through RPTA for her early career success: "I tailored both my senior project and internship to pursue my interest in being a ranger. I found my RPTA professors to be more than knowledgeable about my desired field having worked in park management themselves. From the combination of their contacts and advice and the experience I gained from my senior project and especially my internship, I was qualified for a job with the NPS, for whom I continue to work today." Read more
---
Adrian Plaxco (RPTA '08)
Adapted from information provided by Plaxco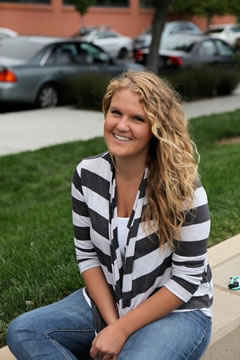 One of the most prevalent reasons that RPTA students and alumni give for their career choice is the ability to combine one's passions with their career. Adrian Plaxco (RPTA '08) was one of those students, and she is now one of those alumni. Plaxco works for INCA: International Nature and Cultural Adventures, a luxury adventure travel company based in the Bay Area. INCA offers private or small group tours to a variety of destinations: Galapagos, Peru, Patagonia, Alaska, Turkey, Antarctica, and custom trips to Africa. Plaxco recently returned from a trip to the Galapagos Islands and the Amazon jungle. When asked about her experience through RPTA at Cal Poly, she said, "I am very grateful for my time at Cal Poly and everything I learned from the RPTA department. The wide variety in courses and knowledgeable professors really prepare you for all types of jobs in the industry. On a daily basis I can refer back to courses I took at Cal Poly that are directly applicable to my current position at INCA."
---
Zach Mullinax (RPTA '04)
By Davia Montoya, originally appeared in Winter 2008 edition of The Report
Zach came to Cal Poly for the Recreation, Parks, & Tourism Administration program and Cal Poly's Baseball team. Zach enjoyed the opportunity provided by the various concentrations. He decided not to play baseball his second year, and focused on building his resume with field experience. This is how Zach became involved in ASI as the student chair for campus concerts. In this capacity he brought performers such as Incubus and Jason Marz to Cal Poly.
Becoming involved with ASI concerts, Zach had the opportunity to meet Incubus and their agent, John Harrington. He completed an internship during his senior year with Variety Artists.
Zach continues his employment and currently represents ten of his own clients and has booked over 800 shows. Read more
---
Joni Parmer (RPTA '07)
By Anthonia Edgren, originally appeared in the Winter 2010 edition of The Report


Recreation, Parks, and Tourism Administration alumna Joni Parmer (RPTA '07) has found her true passion in combining both event planning and marketing to create her perfect job. Parmer used her experiences with RPTA, a graphic communications minor, and networking from her internship with Rusty surf brand to culminate in her first job with Billabong. That opportunity has opened more exciting doors for Parmer (pictured, far right). Read more
---
Danielle Fabela (RPTA '98)
Note. Danielle was awarded RPTA Honored Alumna in 2009
RPTA alumna Danielle Fabela earned a Master's degree in Recreation Administration from San Francisco State University (SFSU) in 2006 with a specialization in Education Administration. During her time at SFSU, she received the Distinguished Achievement Award. Her Masters thesis is entitled: "The Affects of Team Building on Staff Morale Among Part Time, Seasonal Employees of the Summer Programs at the San Bruno Parks and Recreation Department."
She received her Bachelor's degree in 1998 from Cal Poly in Recreation Administration, with an emphasis in Commercial Tourism. Read more
---
Related Content