Summer 2014 Newsletter
Live It, Protect It, Explore It!

FROM MY LITTLE WOODEN DESK…
By: Bill Hendricks, Department Head
As you read this summer 2014 edition of The Report, it seems that everywhere you turn RPTA is on the local, state, national, and international stage.  Past academic quiz bowl champions who are now graduating, a student employee award recipient, an emerging leader in the tourism industry, research that makes a difference, the latest in adventure sports technology, and student-athletes playing on the biggest stage offer you a glimpse of how Cal Poly RPTA is making its presence well known. Read more.
EDITOR'S RETROSPECTIVE: MOVING FORWARD, BUT NEVER FORGETTING
By Kevin Mould (RPTA '14), Editor
I won't lie. I've considered how different my life might be if I'd chosen a major other than RPTA, even as recently as the past few days, only a month away from graduation.
Then I realize where I am and what I've learned. I realize the things I've been able to do as a part of this major and the amazing friends and teachers that have become a part of my life. I consider these things, and it becomes clear to me that I wouldn't exchange my time as part of this program for the world. Read more.
LEADING THE WAY
RPTA SENIOR JACKIE GARCIA WINS 2014 OUTSTANDING STUDENT EMPLOYEE AWARD
By Kevin Mould (RPTA '14), Editor
Sometimes a body of work simply speaks for itself, as it did recently for senior Jackie Garcia (RPTA '14) in winning Cal Poly's 2013-14 Outstanding Student Employee of the Year. Garcia was selected unanimously from 34 nominees, and proved just how far Cal Poly's Learn by Doing motto can carry those who take it to heart. To put a crown on this amazing honor, Garcia also went on to win the same award at the state level, the fourth consecutive year that a Cal Poly student has done so. Read more.
FROM EVERSLEY TO SHIPLEY: MARCH MADNESS TAKES ON A DECIDELY RPTA FLAIR!
By Alyssa Beatton (RPTA '16), Staff Writer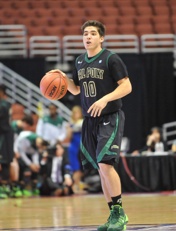 Spoiled. That's the word the upperclassmen on the Cal Poly Men's Basketball team use to describe Ridge Shipley's first season on the team. From beating Santa Barbara on their own court during their senior night, to wearing new and improved black jerseys, to becoming Big West Champs, to dancing in the "Big Dance" of the NCAA Men's Basketball Tournament - it sure does seem like Shipley is spoiled, but he and the team deserve nothing less than success.
Although they have a major in common, Chris Eversley (RPTA '14) and Ridge Shipley (RPTA '17) are two very different people. Chris is a senior from Chicago; Ridge is a freshman from Dallas. Shipley plays point guard; Chris is a forward and almost eight inches taller. Yet, this past March, these two men came together to make history in leading the Men's Basketball team to its first NCAA tournament.
The 2014 regular season did not go how Eversley imagined his last season as a Mustang would go. He felt bad for the rest of the team for how poorly they were performing, especially being a team leader. He had high hopes for the season, with his personal goal to be conference player of the year. Given the regular-season team record, earning player of the year accolades was not in the cards for Eversley. Cal Poly ended the regular season 10-19, losing their last conference game to UC Santa Barbara (UCSB) in Mott Gym on senior night. Prior to the Big West tournament, Coach Callero asked Eversley what was more important: player of the year or most valuable player (MVP) of the Big West tournament? With that in mind, Eversley and the rest of the Cal Poly Men's Basketball team rallied during the Big West tournament, beating UCSB, UC Irvine, and CSU Northridge to win the tournament and earn their first-ever trip to the NCAA Men's Basketball tournament. With his stellar play throughout the Big West tournament, Eversley was indeed awarded the MVP trophy, becoming the first Cal Poly Men's Basketball player to do so. Read more.
"SURF'S UP" ON AN AWARD-FILLED NIGHT: RPTA END-OF-YEAR BANQUET RECAP
By Alyssa Beatton (RPTA '16), Staff Writer
Students and faculty were invited to attend this year's End-of-theYear RPTA Awards Banquet, which took place on May 29 at the oceanfront Avila Lighthouse Suites. Following this year's "Surfin' RPTA" theme, guests were clad in Hawaiian shirts, seniors were encouraged to write a personal "message in a bottle," and games of limbo and no-handed doughnut-eating ensued. This catered event allowed guests to build their own personal pizza, with the next stop being the dessert table topped with salt water taffy and beach-themed cupcakes.
In addition to celebrating another successful year and sending the seniors off in style, the annual banquet was also an opportunity to recognize those who have served the department over the academic year and have excelled academically through the disbursement of awards and scholarships. Read more.
KELSEA O'LEA: EMERGING LEADER IN TRAVEL
By Kevin Mould (RPTA '14), Editor
The accolades keep rolling in for RPTA and its outstanding graduates, the latest of which is Kelsey O'Lea (RPTA '11) who received the California Travel Association's 2014 "Tourism Industry Emerging Leaders Award" at this year's Cal Travel Summit in Los Angeles.
The award, which was established at the 30th annual summit in 2012, is designed to recognize individuals under the age of 30 who have contributed to the support and promotion of travel, tourism and hospitality through their individual and/or organizational efforts. Businesses and individuals throughout the state were encouraged to nominate colleagues and connections who demonstrated outstanding degrees of skill and talent, and who were driven in their desire to develop the industry. Read more.

A GREENWOOD SWEEP!
RPTA COUPLE EACH RECEIVES AN AWARD AT THE ANNUAL COLLEGE BANQUET
By The Report staff
On June 4, the College of Agriculture, Food & Environmental Sciences convened for the annual faculty and staff awards banquet, and despite the relatively small size of the Recreation, Parks, & Tourism Administration department when compared to peer departments, RPTA faculty and staff again had a major presence. This year, the Greenwoods were the toast of the evening. Jerusha Greenwood won the Outstanding Advisor Award, and Brian Greenwood brought home the New Faculty – Outstanding Teaching Award. Both faculty were nominated by their colleagues, and we as a department are proud of their contributions and accomplishments. Congratulations to Jerusha and Brian Greenwood!

RPTA OUTSTANDING SENIOR SPOTLIGHT: KEVIN MOULD
By Brian Greenwood, Faculty Advisor
When the nomination process for Outstanding Senior commences annually, the RPTA faculty generally discusses and considers several students for the prestigious award. When that time came this year, I began the discussion with, "Has there ever been a student who has done more for this department than Kevin Mould?" While that question is certainly a difficult one to answer fully, considering the long history of our department, I genuinely believe Mould's record of service to be second to none. The RPTA faculty agreed, and this year we named Kevin Mould as RPTA's 2014 Oustanding Senior. Read more.
CAL POLY BOUND!
RPTA HIRES KEVIN LIN TO FILL VACANT SPECIAL EVENTS POSITION
By Anna Bach  (RPTA '17), Staff Writer
His hometown is the birthplace of influential Chinese philosophers and emperors such as Xunzi and Emperor Qin; he has interned for a gold trading company in Hong Kong; he served as a tour guide in Beijing; he once went an entire week eating nothing but Subway subs; and he is coming to San Luis Obispo in Fall 2014 as a newly hired RPTA professor. Introducing...Kevin Lin!
We are excited to welcome Lin to the RPTA faculty. His extensive experience in the meeting, incentive, conference, and exhibition (MICE) industry makes him a perfect fit to teach classes in the event planning & management concentration of our department. Read more.
RESEARCH THAT MATTERS
PROFESSOR GOLDENBERG SEEKS FUNDING FOR OUTDOOR ADVENTURE THERAPY FOR CANCER SURVIVORS & FIGHTERS
By Brian Greenwood (with assistance from Marni Goldenberg), Faculty Advisor
Whether it's youth development research designed to teach children life skills through nature or sports, visitor impact studies designed to enhance experiences in parks, or agritourism fieldwork employed to keep a family farm thriving, the applied research conducted under the auspices of the faculty in RPTA matters. And it matters most due to the applied lens by which we view and address problems.
While all of our research matters, one study in particular has really stood out over the last couple of years. Professor Marni Goldenberg has developed a research partnership with a non-profit organization that serves young cancer survivors and fighters ages 18 to 39 years of age through outdoor adventure therapy. This project was written about in the most recent edition of the college's Agriview publication. The article discusses Goldenberg's cancer experience, as well as the impact that this non-profit organization had on her and why she started this project. Through the research project she has been able to work with both undergraduate and graduate students to examine outcomes, physical fitness, self-efficacy, and self-awareness that shows that outdoor adventure therapy is beneficial to young cancer patients' long-term outcomes. Read more.
NETWORKING FOR SUCCESS
RPTA FOSTERS RELATIONSHIP WITH GEORGE P. JOHNSON, WORLD'S LEADING GLOBAL EVENT AND EXPERIENCE MARKETING AGENCY
By Heidi Reighard (RPTA '14), Staff Writer
By proudly providing excellent customer service and marketing and by "breaking down the walls between clients and their audiences around the world," George P. Johnson (GPJ) is the world's leading global event and experience marketing agency. Founded in 1914, GPJ values the importance of face-to-face connections between its clients and customers and believes personal relationships are a key factor in creating lasting experiences and moving people to action. Read more.
RUNNING POINT: A LOOK AT RPTA SENIOR AND WOMEN'S BASKETBALL STAR ARIANA ELEGADO
By Kevin Mould (RPTA '14), Editor
Fresh off Cal Poly's first trip to the Men's NCAA Basketball Tournament, it is important to acknowledge that this is the second time Cal Poly has made its way onto college basketball's biggest stage. Last year, it was the women's team making history, and a big part of that success was senior Ariana Elegado (RPTA '14), a sport management concentration student from San Diego and the starting point guard for the women's basketball team.
To get where she is, however, Elegado had to overcome a number of obstacles. She initially considered staying at home and playing for the University of San Diego, but Cal Poly ultimately won her heart. San Luis Obispo was the first of the potential new locations she visited, and she immediately fell in love with the town, the campus, and the people. Read more.
ALUMNI SPOTLIGHT: JAMIE OLIVER EXCELS AT GOPRO!
By Ari Kamp (RPTA '15), Staff Writer
Whereas most individuals enter college with a somewhat wide-eyed view on life and a vague idea of what they want out of a future career, Jamie Oliver (RPTA '2006) discovered her passion early in life in the midst of her involvement in all things related to recreation. Oliver was able to take her passion for recreation and turn it into a very exciting profession. At present, she's the senior global events manager at GoPro, an influential company whose mission is to create products that allow people to capture their life's most exciting moments and share them with others. Oliver positioned herself in the heart of the fast-paced recreation industry early in her professional career, and we in RPTA are excited to acknowledge such a positive reflection of the department and contribution to the field. Read more.
A RECORD-BREAKING AUCTION & DINNER
THE 2014 "AROUND THE WORLD WITH RPTA" THEMED FUNDRAISER RAISED NEEDED FUNDS FOR STUDENT AND FACULTY DEVELOPMENT
By Ari Kamp (RPTA '15), Staff Writer
The highly anticipated "Around the World with RPTA" travel-themed auction and dinner was held last February as the RPTA department's annual fundraiser. With the amount of work that goes into every auction (especially this one), it is incredibly important for our department to be able to pause, reflect, and honor those that collaborated to make it happen. The 2014 RPTA auction was one-of-a-kind with its unique collection of ideas, people and experiences.
Those that have been part of or attended one of RPTA's annual auctions in the past know that the standard is very high. This year's auction and dinner was particularly unique in that it was almost completely student-directed. While previous auction and dinners have been mostly student-run, a faculty member was ultimately in charge. RPTA graduate student Megan Hobbs served as CEO of the event, and this was the first year that the committee was entirely student-based, which participants say was a completely new experience and a very successful transition. With only a handful of individuals with past experience on the planning committee, there was a blank canvas for this year's committee. Read more.
RPTA DONOR HONOR ROLL (2013-14)
By Anna Bach (RPTA '17), Staff Writer
The RPTA students, faculty, and staff are very thankful for the generosity of our numerous donors and sponsors over the past year. This support allows us to reach new heights in student and program development. We would like to acknowledge these individuals and organizations. Thank you so much!
Mt. Whitney Level ($1,500 or more)

| Organizations |   |
| --- | --- |
| BonusWeeks.com | The California Parks Companies |
| Individuals |   |
| Elisabet O. and Michael O. Harth | John W. Koeberer |
| Kris W. and Carey Koeberer | Shawn G. Fisher |
Hall of Fame Level ($500-$1,499)

| Organizations |   |
| --- | --- |
| Bacara Resort | Cass Winery |
| Dolphin Bay Resort and Spa | Giants Enterprises |
| Hope Family Wines | J7 Surfboards |
| Los Angeles Dodgers Inc | Margarita Adventures |
| Point Break | Renaissance Salon |
| Santa Barbara Sailing Center | Stanford Court Hotel |
| Pismo Coast Village RV Resort | Santa Ynez Band of Chumash Indians |
| SeaCrest OceanFront Hotel |   |
| Individuals |   |
| Anonymous Donor | Alice T. and Stephen M. Cass |
| Austin Hope | Doug R. and Pam S. Hamp |
| Lana Miu | Patricia Pierce |
| Jack and Trish Thuma | John R. Furtado and Maria T. McCullough |
| Robin and Stephanie Ventura | Jay N. and Debbie Jamison |
Gala Level ($250-$499)

| Organizations |   |
| --- | --- |
| Arroyo Robles Winery | Avila Bay Athletic Club & Spa |
| Cypress Ridge Golf Course | Dakine |
| E & J Gallo Winery | Fierro Hair Salon |
| Front Street Inn & Spa | Hot Chillys |
| Kennedy Club Fitness | Lions Club International |
| Mammoth Mountain Ski Area | Pacifica Hotel Company |
| Republic Services | San Luis Obispo Blues Baseball Club |
| Shore Hotel | Truth Aquatics |
| The Walt Disney Company | Wines for Humanity |
| World of Pinot Noir | Yoga Centre of San Luis Obispo |
| Special Olympics Southern California |   |
| Individuals |   |
| Joanne M. Barker and Bernn H. Hitch | Edwin Conn |
| David M. and Jennifer J. Daniels | Brian and Jerusha Greenwood |
| Kevin and Barbara J. Kennedy | Gary L. and Julie McKinsey |
| Valerie R. Seymour | Carolyn B. Shank |
| Bob and Tanis Shore | Peter D. and Tawny D. Sterios |
4-Star Level ($100-$249)

| Organizations |   |
| --- | --- |
| All Out Events | Andrew Rader Acupuncture |
| Angelo's ATV Rental | Arnie's ATV Rentals |
| Avila Beach Paddlesports | Beach Butlerz |
| BevMo! | Boston Red Sox |
| Cajun Kitchen | California Mid-State Fair |
| Central Coast Kayaks | Central Coast Outdoors |
| Channel Island Outfitters | Destination Drivers |
| eMotorsWest.com | The Home Depot |
| Koberl at Blue Restaurant | Lassen Park Foundation |
| Madonna Enterprises | Nike Inc |
| Paso Robles Wine Country Alliance | Pasolivo Olive Oil |
| San Luis Obispo Marathon | Santa Barbara Polo & Racquet Club |
| Skydive Santa Barbara | SLO Divers |
| SLO Safe Ride | Spark Yoga |
| Sugar Bowl Corporation | Sunset Savor the Central Coast |
| Tan LA | Tennis Warehouse |
| Tolosa Winery | Tri-California Events Inc |
| Veris Cellars | Wine, Waves & Beyond |
| Law Offices of Stephen E Penner PC | Wells Fargo & Company |
| Individuals |   |
| Anonymous Donor | Candace E. and Christopher S. Brown |
| Renoda G. Campbell | Elisa C. Cox |
| Mark Corella | Bob De Carolis |
| Cecile R. and Michael N. DeMartini | Kyle Duffy |
| James I. and Jeanette L. Efird | Bill Hendricks |
| Chance J. Hochschild | Whitney Hrdlicka |
| Barbara C. Jauregui | Robert H. Kautz |
| Patricia Koberl | Michael W. Langford |
| Phyllis Madonna | Zach Mullinax |
| Mark Nix | Kenneth R. Orvick |
| Karen D. Pecher | Erika A. Penner |
| Lii and Stephen E. Penner | Andrew A. Rader |
| Judith A. and Ronald A. Ritter | Joshua Romanelli |
| Celeste and Jim Royer | Ann and Robert Schiebelhut |
| Dan B. and Lisa Semonsen | Kimberly M. Sones |
| Dan and Sue Story | Kirk Sturm |
| Heather Vilhauer | Cooper Walters |
| Cady Wolf | Craig D. and Kristina N. Wyatt |
| David Yosso |   |
Starter Level ($1-$99)

| Organizations |   |
| --- | --- |
| Oracle Corporation |   |
| Individuals |   |
| Carmella M. and Eric V. Beck | Jillian N. Bello |
| Toren Bentson | Kathryn and Steve Benvenuto |
| Megan Bleichner | Frederick J. and Shannon J. Bond |
| Joseph E. Borzellino and Lisa Coffman | Andie Bradford |
| John J. Bullaro and Cynthia D. Moyer | Adrienne J. Carey |
| Jill G. De Haan-Ingram and Jayson L. Ingram | Shea L. Duddy |
| David A. and Paulette A. Duysen | Patrick K. Farrell |
| S. Fujitani | Linda F. Hancock |
| William W. and Margaret S. Hendricks | Lisa M. Jackson |
| Craig P. and Patricia M. Johnston | Marsha A. Krebs |
| Bill and Debbie Kellogg | Jami M. and Ryan D. Lehman |
| Teresa A. Lees | Jordaine Mcginnity |
| Melissa R. McNally | William S. Mullen |
| Nora O'Donnell | Jennifer A. Oakes |
| Theresa Osorio | Antoinette Padgett |
| Heidi Reighard | Elizabeth M. and Willie Reichenstein |
| Keith D. Rogers | Laurene Y. Rood |
| Amanda C. and Joseph E. Sandler | Rose M. Scalzo |
| David R. and Julie A. Sears | Ed and Leilani Sussenguth |
| Kelly Tobin | Erin Vanderveen |
| Eileen O. Vavra | Christopher J. and Kimberly A. Zimmer |
Thanks again to all of the individuals and organizations who contributed to RPTA over the past year!

If you are interested in donating, please click the link below or contact Department Head Bill Hendricks at whendric@calpoly.edu
MEET THE STAFF OF THE REPORT
The Report staff are nominated by RPTA faculty for demonstrating excellent writing skills in RPTA classes. Student writers then coordinate with the editor and faculty advisor Brian Greenwood to develop and write articles.
Keri Schwab brings her journalism experience to the newsletter and will serve as the assistant faculty advisor for Academic Year 2013-14.
The editor for 2013-14 was Kevin Mould (RPTA '14). After several years as a staff writer, this was Kevin's first year as editor. Thanks for stepping up, Kevin, and we wish you best of luck moving forward in your career!
The staff writers for this edition of The Report included:
Heidi Reighard (RPTA '14), Ari Kamp (RPTA '15), Alyssa Beatton (RPTA '16), and Anna Bach (RPTA '17). Read more about the staff.
Make a Donation
If you are interested in donating to RPTA, please click the link below.
Related Content